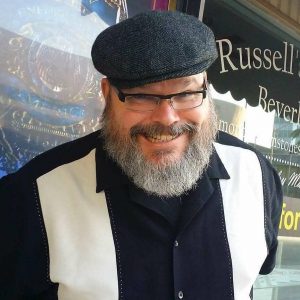 By Middagh Goodwin
Happy New Year everyone.
Hello and thank you Modesto, this month I celebrate my 5th year of writing for the ModestoView. I am grateful to be a part of such a great institution, working with people who do not just write about events but are the ones who make many of them happen. I am honored to be part of the Modesto Area Music Association and be able to help book so many great musicians at community events sponsored in part by the View and helping to create new ones like May the Fourth-Star Wars Day, Graffiti-Con, Patio-Fest and bringing back the Downtown Sampler. Along with Music in the Plaza, the Cruise Route Walk of Fame and Rockin' Holiday. Being part of the ViewCrew has kept me quite busy.
This year the Modesto Area Music Association celebrates the 20th Anniversary of the Awards Show and we are already planning on making it extra special. MAMA also plans on creating a series of local music showcases and record release shows with full production. If you have a new release let us know also make sure to keep us up to date on all your gigs and other news so we can help you promote and increase your fanbase.
We also have set aside funds for a couple scholarships to VMI or Modesto Sound so if you or your child are interested, send an email letting us know why you should be considered. We want to help create the next generation of musicians and or sound people.
I am also going to start booking Music in the Plaza and the local stage at the Stanislaus County Fair soon, so if you are interested in performing, please make sure I have your current contact information. If you are looking for entertainment for an event, conference, grand opening, get in touch so I can help you out. This year we will be teaming up with Plink.com to help facilitate and streamline the booking process. More info on that to come.
Let's all work together to make 2019 a bigger and better year for local entertainment. Go out and support each other and the venues that host live music. Pick up that CD from your favorite local player, throw a buck in the tip jar or buy a beer for the band. As always music is best enjoyed with your friends.
Middagh Goodwin LIVES Music. He has been booking and promoting Music, Art, and Comedy in the Central Valley for years. He ran the award-winning Plea for Peace Center in Stockton for 5 Years and has booked bands from A-Z. In addition, he is the managing editor of ModestoView and writes the MAMAView and GeekView. Middagh works with the Modesto Area Music Association and books Music in the Plaza. In addition, he owns and operates Graffiti-Con, where cars and pop culture intersects. More recently, Middagh has been working with the Graffiti USA Classic Car Museum, helping to create unique events that help raise funds and awareness of the museum and its mission. On top of that, you can tune into one of two shows that Middagh Goodwin hosts on KCBP 95.5 FM; This is SKA and MAMA Radio.