MAMAView: Red Tier Standing By
By Middagh Goodwin
It is spring, and the weather is getting warmer, and we should all be planning on what bands we are going to see. Unfortunately, even though things are getting better, we are not quite there yet. Stanislaus County has entered the Red Tier and more people are getting vaccinated(I am waiting to get my second shot later this month.) Restaurants and Cafes are opening up with 25% capacity indoors, and the weather is warming up to allow for more outside live music. Musicians are looking to play more, and we know there is an audience hungry for a night out. It will be a while before places like the Gallo Center and the State are at full capacity. Let's all do our part to keep things moving in the right direction.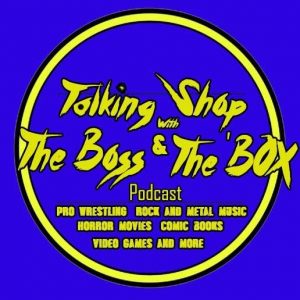 I want to shout out to the guys in Talking Shop with the Boss and the Box podcast for teaming up with Gunn Music Radio. Talking Shop with the Boss and the Box podcast will now be heard in LA, Florida, Oregon, the Midwest and Europe. Brandan "the Boss" Blacker and Dave "Lunchbox" Ussery are well known in the local Metal music community but have taken their free time during the Pandemic to build their weekly podcast where they talk about wrestling, metal and horror. This is what more people need to do, create and network during their downtime.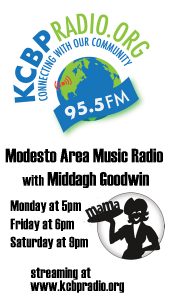 I want to thank all the bands who performed as part of the Valley fundraiser's Sounds for KCBP 95.5 FM. You can still donate by going to https://kcbpradio.networkforgood.com/. Tune every Monday at 5 pm for MAMA Radio and Tuesday at 9 pm for This is SKA. I host both and Thursday at 6 pm for Freak Radio with Christian Boyatt. Email mamaradio209@gmail.com to have your music played on the air.
Continue to support the businesses that provide an opportunity for music to flourish. Tip the bands well along with your bartender and waitstaff. It is important to do our part to help out and show the importance of live entertainment. Buy directly from the musicians, follow them on social media and watch their live streams. Show them you support them as much now as ever, and when the time comes drag all your friends out to see them playing live.
Check out the Top Ten list and the event calendar in the back of the View for a list of things to do.
Middagh Goodwin LIVES Music. He has been booking and promoting Music, Art and Comedy for years in the Central Valley. He ran the award winning Plea for Peace Center in Stockton for 5 Years and has booked bands from A-Z. Middagh is beginning 2016 with a new position at the Gallo Center for the Arts and celebrating Beat Happy! Music's 30th Anniversary. Read the MAMAView every month and a the Needle Drop 52 Records 52 Weeks.