By Jim Christiansen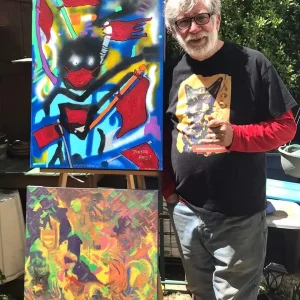 May the Fourth be with you. April was taken up with the Stanislaus Artist Open Studio for 50 artists on the weekend tour. There was no time during the event to catch up with other artists while hosting visitors at the home studio. I was in studio nine, and I want to note the great reviews visitors gave to Studio 8, the Orange Door Art Collaborative at 1501 K Street. I went over before writing Art View to look in the windows and find out more information about when the collaborative studio gallery is open. The show for Open Studio by artists Sarah Smith Aaronson, Erin Gaylord-Sweeney, and James Horning was a great addition to the arts community in Downtown Modesto.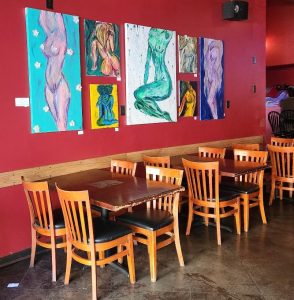 I also walked over to MJC and suggested that you look at the parking lot next to The Silos and check out the murals there at the East campus. Across the street around Contentment Brewing, into the courtyard of the MJC art department, and the MJC Art Gallery, you can stay in touch with what is going on campus. It's worth the tour. Cross Tully Road during weekday business hours and visit the Kruse-Lucas Gallery, where Susan Rossman's art is displayed.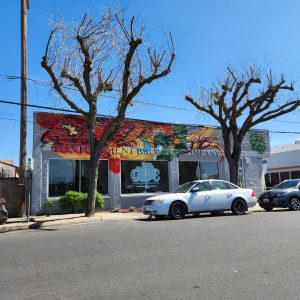 Cinco de Mayo sees the return of DOMO First Fridays, and the Chartreuse Muse will be hosting "Let's Sling Some Mud- Throw Down," a friendly competition with the San Joaquin Potter's Guild from 5 to 9 PM. In addition to this competition, First Friday visitors are invited to participate in an art demo for anyone interested in trying their hand at throwing a pot.

At my studio, many of the art gardens and projects here use repurposed materials. The many signs I do for the Riverdance Farms U-Pick and Pick and Gather festival coming up Memorial Day weekend use sign stock found in the alley, warped or discarded plywood, old wood siding, upcycled with a coat of paint, and lettering. This is the spirit of the "Trash to Treasures" show at Mistlin Gallery, a Stanislaus Arts Council invitation to create art from discarded, unwanted, and disposal items into wall hangings, sculptures, fabric art, small furniture pieces, and more. For more information, see stanislausarts.org/exhibitions. The show is open from May 9 to June 10.

The Teaching Artists Guild and Stanislaus Arts Council are hosting a casual networking event at Mistlin Gallery on May 10. The Meet and Greet invite teaching artists in the Central Valley to drop in, enjoy some refreshments, and meet up with teachers in the visual arts, dance, music, drama, media arts, poetry, and more. The event is free and runs from 5:30 to 7 PM.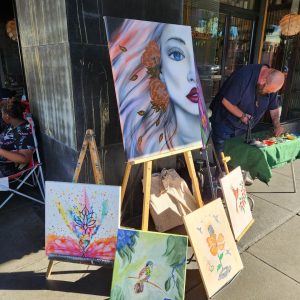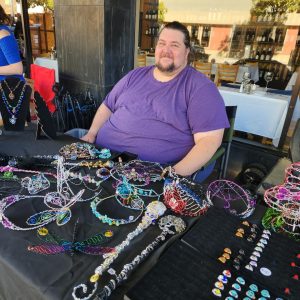 The third Thursday Art Walk is on May 18. Spring weather opens more artists to the sidewalks, as at Tresetti's art corner and First Friday DOMO market. Look for the expanded map. Sam Pierstorff has been raving about the opening of State Theatre associated Film School for grades 8 to 12, opening in July, filling up fast. Check-in with the galleries Queen Bean and Dragonfly Art for Life for Spring and summer classes for students and adults starting this month and in June.

Knights Ferry Gallery studio is open in the downtown area. Ceramic artist Karen Bohbot is among the first to exhibit there. Carnegie Arts Center is holding a weekend fundraiser, The Art of Design: Home and Garden Tour, on May 13. Visitors from Lodi Arts Association to Open Studio announced they are holding their first Open Studio there in the Fall. Support local artists.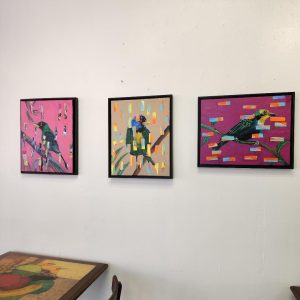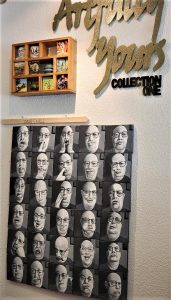 Jim Christiansen, award winning watercolor artist, cartoonist and member of many art groups moved to Modesto in 1977. Born in Riverside, California, and attended University of California, Riverside. Jim often shows around Modesto, does a poster or two, and has been host of the art walk events at State Theatre and Jax on H. Jim has been writing the art notes column several years for Modesto View.