Music in the Plaza
By Middagh Goodwin
There's nothing quite like hearing live music downtown, whether from a restaurant or bar or Drum Love out in the MoRo Music Garden. One particular event that stands out for me is Music in the Plaza. During the spring and summer, you can catch some of the area's best musicians playing for free in the 10th Street Plaza on Friday nights.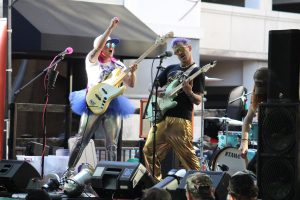 The unofficial kick-off is May the Fourth, Star Wars Celebration. Horizon Point will return to rock the force this year with you. Dress up and bring the whole family for a night of galactic fun from 5-9 pm. There will be vendors and face painting with Kristy Moore, and you might even find the droids you've been looking for.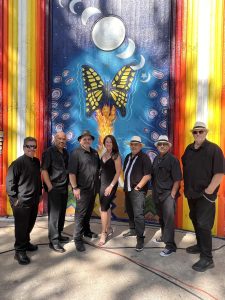 This year, Music in the Plaza will occur on the second through the last Friday of each month, from 7-9 pm. In May, we have some very talented musicians kicking off the season. First up on May 12th is the David Perez Band, a fan favorite sure to get you dancing. This is Mother's Day weekend, so make a reservation at Fuzio's or Ralston's Goat and start celebrating early. Also making their MIP debut, the Midnight Rendezvous Band, featuring a female vocalist playing a mix of reggae, pop, blues, rock, jazz, and R&B. Finishing up the first month of Music in the Plaza will be Valley Heat, who mix blues, rock, and alternative to create a unique musical palette.
Graffiti Summer will be here before you know it, and on June 7th, come out for the Legends of the Cruise 2023 induction and Park and Shine Car Show. We have a new class to honor, and Third Party will be rockin' the plaza. Add hundreds of cars, and Kristy Moore will be returning to do face painting. The event runs from 5-9 pm.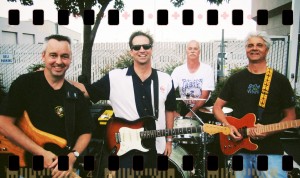 June 9th is Cruise Night in Modesto, and we have the fabulous Gary Gervase and the Kick Start Blues Band providing the perfect soundtrack for the evening of car-watching and cruising. Their good rockin' blues music will make you want to dance.
Mark your calendar, make your reservation, and we'll see you in the Plaza.
Middagh Goodwin LIVES Music. He has been booking and promoting Music, Art, and Comedy in the Central Valley for years. He ran the award-winning Plea for Peace Center in Stockton for 5 Years and has booked bands from A-Z. In addition, he is the managing editor of ModestoView and writes the MAMAView and GeekView. Middagh works with the Modesto Area Music Association and books Music in the Plaza. In addition, he owns and operates Graffiti-Con, where cars and pop culture intersects. More recently, Middagh has been working with the Graffiti USA Classic Car Museum, helping to create unique events that help raise funds and awareness of the museum and its mission. On top of that, you can tune into one of two shows that Middagh Goodwin hosts on KCBP 95.5 FM; This is SKA and MAMA Radio.