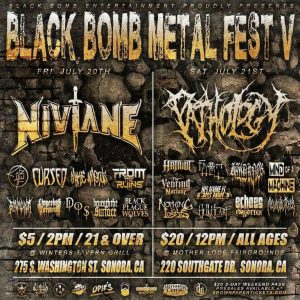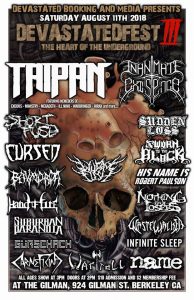 MetalView: Festival Season
By Eve Oberlander
Festival season is upon us. Now's the time to let you know when and where so you can make Metal Summer plans. To kick this month off there is Bay Area Death Fest. This is one you don't want to miss. Bay Area Death Fest takes place at Cornerstone Craft Beer & Live Music 2367 Shattuck Ave. Berkeley, CA on June 8, 9th and 10th. Day 1 and Day 2 Single Day tickets are $28 the day of the show. Day 3 tickets are $30 day of the show. Friday's headliner is Aborted featuring locals Arkaik and Accidentally Murdered. Day 2 headliner is Decrepit Birth and Day 3 headliner is The Faceless. Tickets are available for purchase at www.ticketfly.com Pre purchase your tickets for a discount.
Black Bomb Metal Fest 5 is in July featuring two days of Metal. This all goes down, starting July 20th at Winters Tavern Motherlode Grill at 275 South Washington St. Sonora, CA. Day 1 is only five bucks and features Niviane and several locals, including Bavmorda, 17TEN and Cursed. Day 2 is at the Motherlode Fairgrounds 220 Southgate Dr. Sonora, CA and is $20, featuring headliner Pathology and Hatriot with supporting acts such as locals Mind of a Machine, NBL, Hard Knox and Sonora's Echoes of the Forgotten. For tickets please visit www.brownpapertickets.com
Death in the Dunes is a Metal fest with free camping happening July 28th at the Manila Community Center 1611 Penisula Dr. Arcata, CA. Ten bucks at the door, kids 12 and under, free. You just may catch a few Modesto bands up there in those mountains along with Sadistic Hallucinations from Humboldt County.
Devastatedfest 3: Heart of the Underground is August 11th at The Gilman, 924 Gilman St. Berkeley, CA. This is all ages, two stages, 17 bands, $12 gets you in at the door. Modesto will be in the house as well, with performances by Bavmorda, NBL, Sworn to the Black. Headliners are Inanimate Existence and Taipan, all-star metal band, which has special guest members from Megadeth, Ministry and Soulfly. This is a total of five Metal festivals with Modesto and 209 bands on the bill! Keepin' it Metal all summer long!
Comments
comments