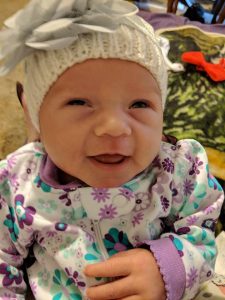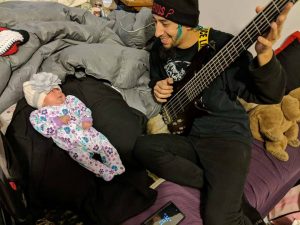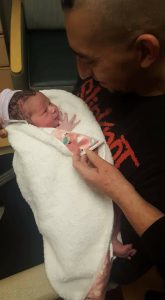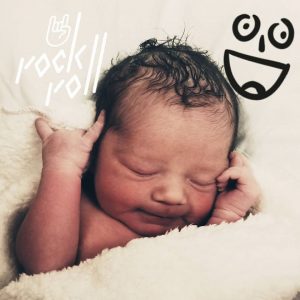 New Year New Life
by Eve Oberlander
A new life has begun, our circle is richer, with the birth of a little metal head. I'm pleased to announce the birth of Æryz Bell. Daughter to Dave and Eemjay Bell. Dave is the bassist in Modesto's Nothing But Losers and Eemjay is their creative designer and makeup artist. Æryz was born in Modesto on January 3rd at 12:29 am, and just one day before her Dads birth date. She was 7lbs 7oz and 19 ½ inches long. Congratulations you two!
If you haven't seen Lost Horizons in a minute its because they are currently recording an album. They are also working on a music video, stay tuned for that. Cursed is playing this month, on the 17th, up in Bremerton, WA and possibly in Portland, OR on the way back. They have been on tour there before thru their connections with the NYDM. Cursed has new merchandise this month. Hit em up, buy something. Purchasing your local musicians merch keeps them on the road, playing shows, doing what they love. Keep reading to find out what happens when they head out on tour this summer with local boys Hang The Kode.
I want to mention Modesto's HellHeart. They are doing big things and I think its FANtastic. Holding the title of Modesto Area Music Award Metal Winner, they are continuously kicking butt at being a Band. They have a show coming up this week, February 5th at Holy Diver in Sacramento. They will be going back to Mexico, on tour, this May. HellHeart's launching their online store this month. If all goes according to plan, fans can expect their brand new music video, Suffer Well, here in a few weeks. Next up, will be filming music video number two, for the song Pomeranian Death Match. To set it all of, HellHeart has a new YouTube series called "HellHeart VS". This web series will be HellHeart playing games against other bands. They are looking for any competition type of games or things they can compete with local and surrounding bands. The first series will be Beer Pong VS Lost Horizons. www.hellheartmetal.bandcamp.com/merch
Stay tuned and turn it up!