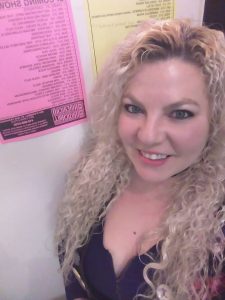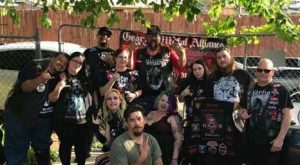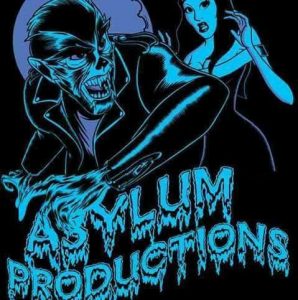 MetalView: Out of the Asylum
By Eve Oberlander
I had the pleasure of interviewing one of the important metal guys in our city. Mr. Brock Wiley. He lives here in Modesto and contributes to our city in many ways. Brock is the West Coast Southern Regional Chapter President of Georgia Metal Alliance Int'l Heavy Metal Club. He's a member of E Clampus Vitus and is apart of the non-profit organization, Asylum Productions Presents. He also does stagehand work and is involved with big shows, like the national act, Shinedown, that just played Modesto Centre Plaza.
Asylum Productions is Sean Andersen, Founder. Brock Wiley, Modesto's Production Manager. Brett Shurtleff, Fliers and Booking. Lon Barnes, Logos and Artwork. Asylum Productions was formed in 2014 out of Vacaville and joined up with Modesto, the summer of 2015. Asylum puts on Metal shows that feature locals, touring acts and Nationals. They put on benefits, fundraisers, tributes, and Celebration of Life for the people of Modesto. I've personally witnessed many a show, where a family was in need, and Asylum Productions was able to help.
MV: What is a kutte and why do you wear it?
BW: "It's a battle jacket. My go board. Advertisement. Who you are as a Metal Head. Your music history."
MV: What does the club mean to you? Can anyone join the GMA?
BW: "The club is my outlet, You wake up every day, eat and sleep Metal. You need some way to express that. To join, contact your local chapter president at www.georgiametalalliance.com."
MV: What are your favorite bands?
BW: "Lamb of God, Mushroomhead, Rush and Black Sabbath"
MV: What's your favorite local band?
BW: "That's hard, Id have to say, members, I hang out with, Nothing But Losers, their also ECV. It changes month to month. This month is Gurschach from East Bay."
MV: What are your goals, what are you trying to accomplish for the Modesto metal scene?
BW: "Return it to its former glory."
MV: What can we do as a community to make this a better Modesto Metal area?
BW: "Come out and support. Show up. Get involved. Buy the merch and CD's."
MV: You do stagehand work for a living, how fun is that?
BW: "It's great, I finally turned my hobby into a job"
MV: If you could bring a famous band here, who would it be?
BW: "All Shall Perish. Realistically, I'd like to bring Amerakin Overdose from Oregon and Maniacal Rebirth from Las Vegas."
MV: How do you plan to become a better influence on our community in the future?
BW: "By continuing to grow the local music scene by booking bigger and better shows."
MV: What drives you to be this Metal force? Why do you do this?
BW: "I didn't see anyone else really doing it and I still wanted to go to shows."
MV: Keeping it Metal!! What does the city of Modesto mean to you?
BW: "It's my hometown. I've found some of the best people here."
There you have it, Brock's cool people. He's in the know. Contact him on Facebook for booking information, club memberships and for concert dates. Join us May 12 for the Slayer Kick Off slash benefit for Tim Diaz, and May 25thfor the Asylum Fundraiser, both at the Other Place Modesto.
Comments
comments