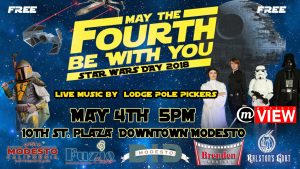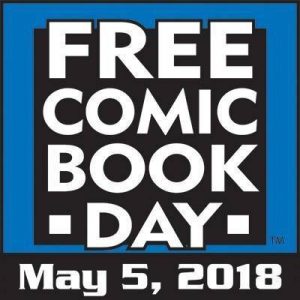 GeekView: Star Wars and Comics
By Middagh Goodwin
This month marks the 41st Anniversary of the release of Star Wars. On May the Fourth at 5 pm we will celebrate our connection to this Galaxy
Far, Far Away with Star Wars Day in the 10th Street Plaza. Bring the entire family out and be amazed by the life-size Tie Fighter, interact and take pictures with the 501st, Rebel Legion, Mandalorian Mercs and more. Find the droids you have been looking for with the Astromech Builders. Bring your own lightsabers and do battle alongside the Saber Guild underneath phenomenal laser and light show created by Laser Voodoo. Listen to the music of John Williams as performed by Beyer High School Band and rock out to the sounds of the Lodge Pole(Jedi)Pickers. Don't forget to stop in at Fuzio or Ralston's Goat for some intergalactic themed food and drink specials. Star Wars Day also kicks off Music in the Plaza and DoMo's First Friday Street Faire.
On May 25th. 41 years after the release of Star Wars(A New Hope) we have a new saga in everyone most beloved scoundrel's life, Solo(a Star Wars Story). Learn how Han meets up with his future pilot Chewbacca and his early encounters with Lando and so much more. Join the Central Valley Costumers, 501st, NorCal Cosies and others and continue the Star Wars fun in the 10th Street Plaza on Saturday, May 26th, 12-4 pm. The Star Wars Premiere events hosted by Brenden Theater have become a great family tradition over the last few years and we look forward to many more.
If that was not enough geeky goodness for everyone don't forget Free Comic Book Day happening on May 5th. Invincible Comics and Hero's Vault will both be participating in a fun day that encourages reading at all ages. Join the NorCal Cosies, Central Valley Costumers at Invincible Comics, bring the kids to meet all their favorite superheroes and maybe even a few dastardly villains, pick up a free comic book and art from local creators Adam Harris, Harold George and Patrick Barr. Don't worry about getting hungry because the Food Fix Truck will be parked on site.
If you hadn't heard already I am working with Douggary Grant(the Geek Fashion Show) to bring a Modesto-Centric Con to downtown on July 1st.
Graffiti-Con Comic and Car Show will take place at the Modesto Centre Plaza with classic cars parked in the 10th Street Plaza. Think American Graffiti meets Star Wars. Advance tickets for $3 are available online and at Invincible Comics, Hero's Vault and Utopia Games. For more information like Graffiti-Con on Facebook.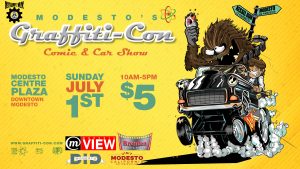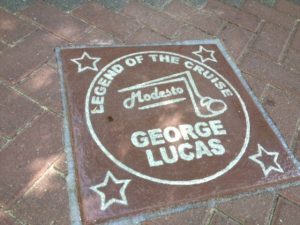 Comments
comments
Middagh Goodwin LIVES Music. He has been booking and promoting Music, Art and Comedy for years in the Central Valley. He ran the award winning Plea for Peace Center in Stockton for 5 Years and has booked bands from A-Z. Middagh is beginning 2016 with a new position at the Gallo Center for the Arts and celebrating Beat Happy! Music's 30th Anniversary. Read the MAMAView every month and a the Needle Drop 52 Records 52 Weeks.