MoBand announces 2022 concert season
Concerts start June 9 at Modesto's Graceada Park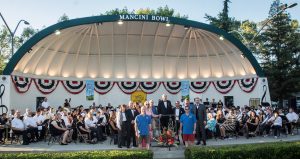 The Modesto Band of Stanislaus County (MoBand) starts its summer concert season June 9 at Mancini Bowl in Modesto's Graceada Park.  The band's opening concert will feature rock-and-roll music to kick off Modesto's Graffiti Celebration. The music of Roy Orbison, The Everly Brothers, and The Beach Boys will highlight the program.  The concert starts at 8 p.m.
The six-concert season runs through July 14 on consecutive Thursdays.  All concerts are free and start at 8 p.m.  Audience members are encouraged to arrive early for good seats in the bleachers and the lawn area.
This season's theme is "Hot, Hot, Hot!" and this year's selection of music will have something for everyone including patriotic music, light classics, movie themes, rock-and-roll classics, and hot Latin selections.  
The second concert will feature the music of Carlos Santana, and other Latin favorites. The third concert will feature classic Country favorites as well as pop music hits. The band's fourth concert will salute the Fourth of July in patriotic fashion. MoBand's fifth concert brings together selections from the American songbook. The last concert will highlight music from the season in a "hot summer hits" finale.
Affectionately known as MoBand, the Modesto Band of Stanislaus County is one of the oldest community bands in the United States. It is also one of the largest, with an average membership of 130 performers. Membership is open to all area musicians who have graduated from the 8th grade. There are no auditions. Musicians are encouraged to attend and have a good time. All high school, college and adult musicians are welcome.
Also returning this season is the "Night at the Bowl" fundraiser set for June 21.  The evening features the tastes of local restaurants and wines along with the music of Neil Buettner and the band, Third Party. Tickets are $50 per person. "The 7th Concert" on July 21 is another fundraiser that supports the stability and well-being of MoBand and its programs. Donations are accepted during this concert which features the band, Triple D.
Rehearsals are held each Monday and Wednesday night from 6:30 to 9 p.m. beginning June 6.  A special welcome back rehearsal will be held June 1 from 6:30 to 9 p.m.  Rehearsals take place at Mancini Hall, 718 Tuolumne Blvd.in Modesto.
For more information about MoBand and tickets to Night at the Bowl, visit www.moband.org.
ModestoView features contributors from our community on a regular basis. We enjoy and welcome these honorary ViewCrew members. If you would like to message them, email to info@modestoview.com