Modesto Sound Awarded $255,000 by KDA Creative Corps
Modesto, Calif. (June 20, 2023) – The KDA Creative Corps (KDACC) announced that Modesto Sound received $255,000 in funding to execute the California Audio Roots Project from June 2023 to May 2024. The California Audio Roots Project is designed to involve members of the community in recording stories, poems, and songs about their lives and about living in California. The upcoming season will focus on social justice and community engagement. Modesto Sound is proud to be on the list of the 20 recipients who will receive funding for their arts programming which will create a combined 611 jobs here in Central California.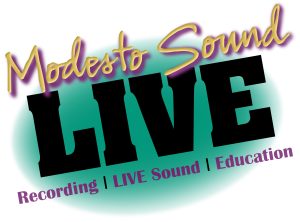 "It felt good to see that our work is appreciated and can continue! We know many of the podcasts we have recorded in the past have helped preserve meaningful musical and life stories that may not have been recorded and shared otherwise," said Modesto Sound's Founder Brenda Francis.
"I am thrilled to lead as Project Director, and look forward to meeting the participants and recording their stories, poetry, and music," said Modesto Sound's Executive Director Janet Seay.
The California Audio Roots Project helps people feel they are heard and part of creating media – not standing on the sidelines. Modesto Sound's established organizational partners for this project are two community radio stations and the public library located in the 95354 zip code. The radio station partners, Valley Media valleymedia.org and the Modesto Peace/Life Center peacelifecenter.org, were chosen on the basis of their missions, which aim to reflect the diverse and economically underserved voices of the Modesto community.
To encourage participation and honor the value of their time, residents will be paid to record these podcasts. Residents served will mostly be from the 95354 zip code. This is because research from the California Healthy Places Index (HPI) Map https://map.healthyplacesindex.org shows several areas, including zip code 95354 which is where Modesto Sound's studio is located, to be in the lowest quadrant (bottom fourth).
According to the HPI work which can be zoomed in on neighborhood-by-neighborhood, data on social conditions that drive health – like education, job opportunities, clean air and water – are positively associated with life expectancy beginning at birth. Community leaders, policymakers, academics, and other stakeholders use the HPI to compare the health and well-being of communities, identify health inequities and quantify the factors that shape health. 
"We were thrilled to see the enthusiastic response from artists and organizations across the region for the KDA Creative Corps grant program," said KDACC Program Director Andrea Hansen. "After a thorough review process, we were excited to announce Modesto Sound as a recipient of this inaugural grant and even more excited to see the impact this project will have on the community over the next year."
Out of 140 eligible individuals and organizations, KDACC received an astounding $21.7 million in grant application requests for $3.4 million in available funding. The grant applications came from all 14 counties in the Central Valley and Eastern Sierra region of the state.
Applications from individuals and eligible organizations were reviewed against objective criteria that considered project design, artist involvement, impact on the Healthy Places Index, community engagement and budget. A review panel adjudicated complete and eligible applications based on the criteria against a 6-point ranking scale. Final grant awards were made collaboratively between the Kern Dance Alliance Board of Directors, KDACC program staff and the California Arts Council (CAC) staff.
For more information about the projects please visit https://kdacreativecorps.org/. 
The California Creative Corps is a pilot program designed to promote community and civic engagement and spread awareness about water and energy conservation, climate change, emergency preparedness, relief and recovery through the arts.
ABOUT THE KDA CREATIVE CORPS
The KDA Creative Corps (KDACC) is a pilot program, part of the California Creative Corps, designed to promote community and civic engagement, spread awareness about water and energy conservation, climate change, emergency preparedness, relief, and recovery through the arts. KDACC is administered by the Kern Dance Alliance, one of 14 organizations selected statewide to regrant funds in their respective regions to arts and social service organizations, individual artists, and cultural workers. For more information, visit KDAcreativecorps.org.
ABOUT MODESTO SOUND
Modesto Sound opened in 2005 and is a nonprofit organization whose mission is to empower youth with real-world job skills to create music and artistic media. Their purpose is to provide youth a safe and fun way of learning a job skill while providing the community with radio programming and live concerts. Previous participants become mentors to new students. This forms a circle of learning. For more information about the California Audio Roots Project and this recording opportunity visit Modesto Sound modestosound.org or call 209-573-0533.
ModestoView features contributors from our community on a regular basis. We enjoy and welcome these honorary ViewCrew members. If you would like to message them, email to info@modestoview.com