MODESTO SYMPHONY ORCHESTRA APPOINTS NICHOLAS HERSH AS MUSIC DIRECTOR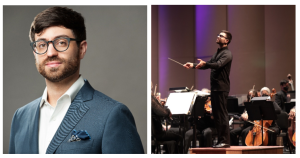 MODESTO, CA – The Modesto Symphony Orchestra Association (MSOA) is excited to announce that the Board of Directors has named Nicholas Hersh as the organization's next Music Director. Hersh is only the ninth music director for the Modesto Symphony Orchestra and he will lead the MSOA's 93rd season. Hersh's artistic leadership will bring innovative, captivating, and exciting ideas and programs into our community and his passion for music education will help guide our existing education programs to new heights. 
MSO's Music Director search began in 2018 with an initial response of over 200 applicants, "The process of selecting a new Music Director has been an inspiring experience for the MSOA Board of Directors," says Board Chairperson Steve Pallios. "Careful deliberation, coordination, and planning went into choosing our next artistic leader. Nick has a passion for producing high-quality performances and enhancing our community's quality of life through music. The Board and I are looking forward to Nick's ambitions for the MSOA through innovative and collaborative programming and understanding of what our community needs." 
In his first season with the MSOA, Hersh will lead the entire 2023-24 Classics Series. Hersh will work with the MSOA to complete each program and ensure it complements the orchestra and guest artists while being exciting and captivating for the community as well as meeting his artistic standard. The Modesto Symphony Orchestra will also be Hersh's first Music Directorship.  
"I am beyond thrilled that my first music directorship will be in such a vibrant, music-loving city as Modesto," says newly appointed MSOA Music Director Nicholas Hersh, "There was a certain electricity in the Gallo Center when the MSO musicians and I collaborated last year, shared not only onstage but with the audience as well; together we'll grow that energy, creating bespoke artistic experiences for the entire Modesto community and cementing the role of music education for all ages as a driver of social good. I can't wait to be back in Modesto this October for Tchaikovsky's blazing Piano Concerto No. 1 with Alessio Bax, whose inventive musicianship I've long admired, as well as a season full of both new discoveries and fast favorites!" 
"Nick immediately impressed us with his thoughtful consideration of our entire organization, collaborating with our staff, and connecting with our musicians and audiences," says Caroline Nickel, President and CEO. "We invited Nick to join us last season due to his reputation and notable conducting engagements, but after working with him in November, his personality and enthusiasm for both orchestral performances and music education shined through. I had the opportunity to reconnect with him, and I knew he would be a great fit for our organization and the values that we strive for. We're excited to welcome him on board, and we can't wait to see him lead our orchestra in his Music Director debut this October."   
Hersh, an American conductor and a rising star in the world of classical music, brings to Modesto an array of talents and accomplishments. During his tenure as Associate Conductor with the Baltimore Symphony Orchestra (BSO), he led the symphony in numerous concerts and directed Baltimore's education and family programming as well as serving as Artistic Director of the Baltimore Symphony Youth Orchestra. Hersh created the BSO Pulse series, through which he brought together prominent indie bands and orchestral musicians in unique collaborations.  
Additionally, Hersh frequently works with major symphony orchestras including the National Symphony Orchestra, Houston, Colorado, and the Peabody Orchestra of John Hopkins University. Hersh is also a successful arranger and orchestrator, and audiences that attended his debut with the Modesto Symphony in November 2022 were treated to his orchestral arrangement of Franz Schubert's String Quartet No. 14, "Death and the Maiden." 
The MSOA is excited to enter this new era with Hersh and bring innovation not only on stage but in our community. Join us in welcoming Nicholas Hersh as he leads the MSO in the following programs: 
Artist Bio 
Nicholas Hersh 
American conductor Nicholas Hersh has earned critical acclaim for his innovative programming and natural ability to connect with musicians and audiences alike. 
In the 2023-24 season, Hersh returns to the National, Houston, Baltimore, Colorado, and New Jersey Symphonies, while making debuts with the Springfield Symphony and Wintergreen Festival. Recent include engagements with the Detroit, Grand Rapids, New World, North Carolina, Phoenix, Portland (ME), Richmond, Tucson, Utah, and Winston-Salem symphony orchestras, Louisiana and Rochester Philharmonics, and the Florida and Sarasota Orchestras. 
Over a remarkable tenure as Associate Conductor of the Baltimore Symphony Orchestra, Hersh created the BSO Pulse series, through which he brought together indie bands and orchestral musicians in unique collaborations; he led the BSO in several subscription weeks, and concerts in and around Baltimore; and he directed the BSO's educational and family programming, including the celebrated Academy for adult amateur musicians. Hersh also maintains a close relationship with the National Symphony Orchestra, leading concerts throughout Washington, D.C. He stepped in to replace an indisposed Yan Pascal Tortelier, on subscription, to great acclaim.  
Hersh is frequently in demand as an arranger and orchestrator, with commissions from orchestras around the globe for adaptations of everything from classical solo and chamber music to popular songs. His orchestration of Beethoven's Cello Sonata Op. 69 was premiered by the Philharmonie Zuidnederland in January 2022, while his symphonic arrangement of Queen's Bohemian Rhapsody continues to see worldwide success as a viral YouTube hit. He also serves as arranger and editor for the James P. Johnson Orchestra Edition. 
Hersh grew up in Evanston, Illinois and started his musical training as a cellist. He earned a Bachelor's Degree in Music from Stanford University and a Master's Degree in Conducting from the Indiana University Jacobs School of Music. Hersh is also a two-time recipient of the Solti Foundation Career Assistance Award. Nicholas lives in Philadelphia with his wife Caitlin and their two cats, and in his free time enjoys baking (and eating) sourdough bread. 
About the MSO 
The Modesto Symphony Orchestra (MSO) was founded in 1931 by Frank Mancini, Malin Langstroth, and Leonard Fristrom, who worked with local leaders to establish a musical and cultural focal point. The MSO became a fully professional orchestra in 1977. New innovations developed, such as pops concerts, the formation of the Modesto Symphony Youth Orchestra in 1976, and the first Picnic at the Pops in 1994. The 21st century marked further growth with the formation of the Modesto Symphony Orchestra Chorus in 2001, becoming a resident company of the Gallo Center for the Arts when their doors opened in 2007, and the creation of the Modesto Symphony Youth Chorus in 2017. 
Each season, the MSO performs five classics concerts and three pops concerts at the Gallo Center for the Arts and produces two community favorites, Picnic at the Pops at the E. & J. Gallo Winery and the Holiday Candlelight Concert. Through its education and outreach programs, the MSO is able to reach over 15,000 students each year by working closely with local schools and providing free or low-cost opportunities to experience classical music.  
The 2023-2024 season marks the Modesto Symphony's 93rd season. The MSO continues to strive to enrich and enhance the community by bringing music of the highest artistic caliber and fostering lifelong music education and appreciation.  
ModestoView features contributors from our community on a regular basis. We enjoy and welcome these honorary ViewCrew members. If you would like to message them, email to info@modestoview.com