MODESTO-STANISLAUS POETRY CENTER ANNOUNCES STANISLAUS COUNTY'S INAUGURAL YOUTH POET LAUREATE (Modesto, CA – May 15, 2023)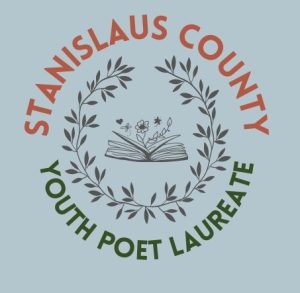 Faith A. Delgado of Turlock, a junior at Pitman High School, was selected as the Inaugural Stanislaus County Youth Poet Laureate. She will serve a one-year term, participate in several engagements throughout the year, and receive a $500 honorarium. Janelle Yulo, a junior at Modesto's Johansen High School, and Zoe Byron, a freshman at Oakdale High School, were both finalists. 
"I am thrilled that the Modesto-Stanislaus Poetry Center created this program to honor youth poets in our community. Faith Delgado is an excellent choice as our first Youth Poet Laureate," shared Gillian Wegener, MoSt Poetry Center president. The Stanislaus County Youth Poet Laureate is a program of the Modesto-Stanislaus Poetry Center (MoSt Poetry), in partnership with Stanislaus County Office of Education, Stanislaus County Library,  Modesto Junior College's School of Language Arts and Education, and Stanislaus Library Foundation. 
This program celebrates youth voices that are committed to artistic excellence, civic engagement, and social impact. The Youth Poet Laureate position has been recognized by the Stanislaus County Board of Supervisors with a county resolution for National Poetry Month  acknowledging this new role. 
In the inaugural year of the Stanislaus County Youth Poet Laureate program , we received an encouraging response of 15 applicants from students across the county. Student applicants represent the communities of Modesto, Oakdale, and Turlock. City of Modesto Poet Laureate Salvatore Salerno served as a judge along with fellow community members and champions for poetry: Dr. Theresa Rojas, poet, artist, and MJC professor; Amy Bultena, artist and SCOE Arts Coordinator; Jessica Geiss, Children's Librarian at Salida Regional Branch of the Stanislaus County Library; Angela Drew, poet, author, and spoken word artist; Dr. Gillian Wegener, Assistant Superintendent for Oakdale Joint Unified High School District and City of Modesto past poet laureate; and Mariah Ring, Lead Youth Support Specialist, Stanislaus County Youth Empowerment Project STAR Program. 
Applicants for the Youth Poet Laureate program submitted an application and an artistic statement/biography indicating civic engagement and leadership background along with original poems. A panel of judges critiqued this work on content, voice, and craft. Leadership and performance were also considered in determining the young person who will represent our communities as Youth Poet Laureate. 
Please join Modesto-Stanislaus Poetry Center in celebrating Stanislaus County Youth Poet Laureate Faith A. Delgado at an event at the Stanislaus County Library this summer, date TBA. You will hear original poems from the finalists and meet the newly selected Youth Poet Laureate. To learn more, visit www.mostpoetry.org/contests/ypl2023/.
ModestoView features contributors from our community on a regular basis. We enjoy and welcome these honorary ViewCrew members. If you would like to message them, email to info@modestoview.com