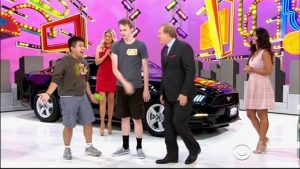 On October 27th, 2017 Austin Castro from Modesto CA won over $45,000 in cash and prizes on the Price is Right with Drew Carey. This last Thursday, February 8th Austin returned with his friend Tristan Spaulding(both students at MJC) determined this time to get Tristan on stage. Tristan was one of the first four contestants to "Come on Down!" and made it up on stage to play the "One Right Price" pricing game. Tristan would go on to win the pricing game, win the Showcase Showdown, and ultimately make it to the final Showcase. At the end of the show, his total winnings came out to over $8000 in prizes. Austin Castro is a local YouTuber and you can watch a video with segments from the show and their overall experience. Congratulations to them both with a combined total of over $50.000 in cash in prizes. Way to go guys.
Tristan's Price is Right Video: https://www.youtube.com/watch?v=vPvZ7VnA9dc
Austin's Price is Right Video: https://www.youtube.com/watch?v=8Seq4S28pb8&t=859s
Comments
comments
Middagh Goodwin LIVES Music. He has been booking and promoting Music, Art and Comedy for years in the Central Valley. He ran the award winning Plea for Peace Center in Stockton for 5 Years and has booked bands from A-Z. Middagh is beginning 2016 with a new position at the Gallo Center for the Arts and celebrating Beat Happy! Music's 30th Anniversary. Read the MAMAView every month and a the Needle Drop 52 Records 52 Weeks.