GoModesto:: Monkeying Around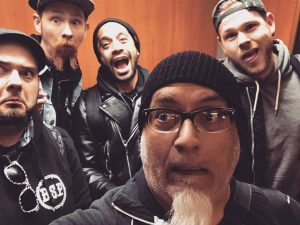 On Sunday, July 9th, Monkey returns to Modesto to entertain with their high-energy, horn-driven ska sounds. Joining them are Franks and Dean from Las Vegas, who started out as a Rat Pack cover band, messing up songs your grandmother loved. They haven't strayed too far from that formula over the years. Opening up is Modesto's own Rocksteady sensation The Bracers always keeping the vibe and the groove moving forward(while respecting the deep tradition of the source material.)  18Seventy Brewing 911 J Street, Modesto. 4:30-8 pm $10 and make sure to bring some extra cash for merch and something to drink.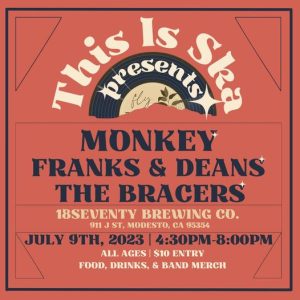 Middagh Goodwin LIVES Music. He has been booking and promoting Music, Art, and Comedy in the Central Valley for years. He ran the award-winning Plea for Peace Center in Stockton for 5 Years and has booked bands from A-Z. In addition, he is the managing editor of ModestoView and writes the MAMAView and GeekView. Middagh works with the Modesto Area Music Association and books Music in the Plaza. In addition, he owns and operates Graffiti-Con, where cars and pop culture intersects. More recently, Middagh has been working with the Graffiti USA Classic Car Museum, helping to create unique events that help raise funds and awareness of the museum and its mission. On top of that, you can tune into one of two shows that Middagh Goodwin hosts on KCBP 95.5 FM; This is SKA and MAMA Radio.