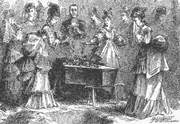 The McHenry Mansion Foundation announces a one of a kind tour of Victorian Funeral Customs just in time for Halloween. Open to the public, the event is scheduled at the McHenry Mansion at 906 15th St., Modesto on Mon., Tues., Wed., Oct. 28, 29, 30, 2019. Tickets are $7 on-line, at the Visitors Center or at the door.
Self guided walk-through tours of the beautiful historic Victorian McHenry Mansion will start at 5:30 p.m. with last entrance at 7:30 p.m. The Mansion, located at 906 15th Street, Modesto, will be draped in black crepe ribbon rosettes and display historic curiosities from the Victorian period and their fascination with death. Ticketed members of the public are welcomed to visit the house and experience 19th Century embalming practices, death masks, séances, spiritualism and phrenology.
The McHenry Visitor Center & Gift Store located at 924 15th Street, in downtown Modesto, CA will be open during the tours and is hosting a 25% discount on any single item of  merchandise for ticketed visitors. Visitors are welcome to browse the shop and watch a brief historic video depicting highlights of the McHenry family, early Modesto and the Mansion.
The Foundation is pleased to continue working with the public and sharing the wonderful community events scheduled at the McHenry Mansion, Visitors Center and Gift Store. Thank you for assisting in making this possible.
For tickets or additional information contact the McHenry Mansion Visitors Center at 209-549-0428 or go on-line to www.McHenryMansion.org
Middagh Goodwin LIVES Music. He has been booking and promoting Music, Art and Comedy for years in the Central Valley. He ran the award winning Plea for Peace Center in Stockton for 5 Years and has booked bands from A-Z. Middagh is beginning 2016 with a new position at the Gallo Center for the Arts and celebrating Beat Happy! Music's 30th Anniversary. Read the MAMAView every month and a the Needle Drop 52 Records 52 Weeks.