NewView: Exit Escape Room Adventures Professor Pittsburgh
by Brandilyn Brown of BrewView
You might remember when BrewView went to the Exit Escape Room Adventures, to escape from the "Saloon" room back in March. We had to find the stash of cash from a saloon owner's illegal poker games and get out of the room within 60 minutes.
It was fun to touch base with the Exit team again, Susan Edmiston, her son Phillip, and her daughter Kristi, who let us know that that new room was open and invited us to come try it!
Would you believe it, Professor Pittsburg my great grandpop, passed away, and it's up to us to find the Declaration of Independence he stole (and hid!) and return it to the museum. That rascal!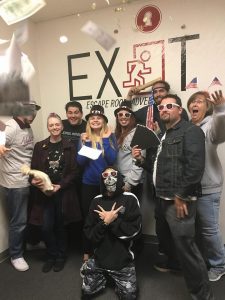 He was a world traveler, and left many clues via postcards and trinkets for us to find, leading us to the renowned National Treasure. I had no idea the guy collected so much stuff, honestly! We would pick things up and ask, "Is this a clue?!" because you just couldn't be sure what was or wasn't helpful in getting you out of that room.  I will give you only one hint: every time you think you've found the last clue, you haven't, so keep searching!
This room was so much fun; we liked it a lot! They pay very good attention to detail, and design the room to make you feel as if you are in a professor's study from the late 1800's.
Follow them on facebook so you don't miss out on specials and contests and schedule your escape today! For more info, email info@exitescapes.com.
Good luck escaping, Modesto!
Exit Escape Room Adventures
1501 Coffee Rd Suite G
Modesto, CA 95355
https://www.facebook.com/EXITescapesmodesto
www.exitescapes.com
Comments
comments
Bring on the rain, and a bottle of Wonky & Wry's Honey Braggot Ale. Loves to roast marshmallows over a fire. Enjoys the mix of cigars and whiskey.