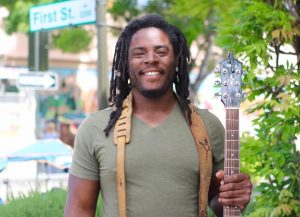 SONGWRITERVIEW: Patriots, Pride and Performances
By Patty A Davis
We are in for a month full of celebrations reminding us of the sacrifice and service of others in the pursuit and assurance of equality, liberty and safety. Many of these events will include live entertainment. Show your appreciation for those who have selflessly served our community. We thank you.
Music in the Plaza will feature two Best Singer-Songwriter MAMA winners back to back-NashNext recording artist, Mondo Mariscal bringing his Country flavored brand of music on 9/14 and Patty Castillo Davis with her full band and special guests serving up R & B tinged Americana -Indie sounds on 9/21.
DEVA Café will welcome a new music showcase -The Saturday Live Music Matinee from 10 am to 1 pm. September will highlight- Anna Rogers 9/1, Troy Faney 9/8, Joy Meeker 9/15, Abraham Steve Lackey and 9/29 Melynda Rodriguez.
DEVA Sunday Breakfast has a special lineup of crowd pleasers including, The Poorhouse Trio 9/2, Kelly Foley 9/9, Marirose 9/16, Allison Ruiz 9/23 and The MoTown MVPs on 9/30.
At the many venues along the Third Thursday Art Walk, live entertainment will complement the evening. Horatio Monroe will take the Modesto View stage at the  Art Walk on September 20 from 6-9pm.
MoPride and the Central Valley Pride Center present Pride In The Park at Thurman Field on September 22 from 1-8 pm. This Festival boasts an eclectic lineup of musical entertainment, dance music, sing along and visual arts, something for everyone.
If you have Songwriter events or are looking to book please send inquiries to pcdenterprises@yahoo.com
Here is a quick look version of what some of your 209 composers are up to this month-
9/1  Tractor Boy Chris Ward  Labor Day Fest in Winton
9/1  Café Tacvba   Gallo Center For the Arts 8 pm
9/4 David Perry Molina hosts Yellow Dot Open Mic  Whirlows  Stockton 6:30-9pm
9/5 Ffej Moore Hosts Open Mic  Cow Track    Oakdale 8 pm
9/6  Horatio Monroe hosts Open Mic  Sonia's Mexican Restaurant, Tracy 7-9pm
9/8 Koala and the Golden Bear  Most Wanted Wine  6:30-9:30 pm
9/12 Cole Hinkle  The Udder Place  9-11pm
9/15 Aaron Durr Band  Gallo Center For the Arts 8 pm
9/16 Tractor Boy Chris Ward  Winters Tavern, Sonora  4-6pm
9/19 Mondo  Rusty's  Tracy  7-9;30 pm
9/22  Patty Castillo Davis Band  St.Stanislaus Harvest Festival
9/29  Mondo  Wine Social  Lodi   7-10pm
9/29   Steve Ashman, Tim Allen, Patty Castillo Davis and Friends  with VMI
CVAR  Benefit Show    The State Theater 6 pm
Comments
comments