PULL UP A CHAIR FOR CHANGE @ ONE TABLE COMMUNITY DINNER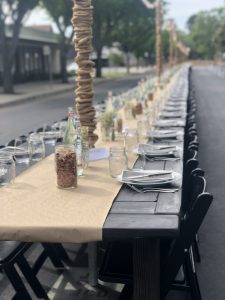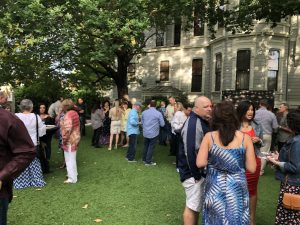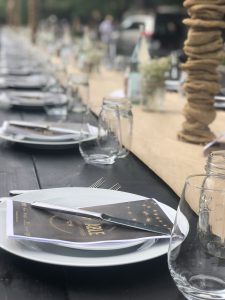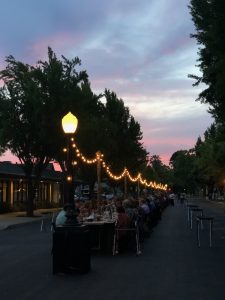 Modesto, CA- United Way of Stanislaus County has a seat for you at the 3rd annual One Table Community Dinner. Join us on Sunday, June 2, 2019, as we gather 300 friends and neighbors in our community for Sunday dinner in the heart of downtown Modesto.
One Table Community Dinner spotlights local chefs and restaurants coming together to create an alfresco dining experience like none other. Seated together at one long table spanning across the street in front of the McHenry Mansion, guests will enjoy live music from Neil Buettner, delicious food and wine, desserts and coffee from restaurants, chefs, bakers and baristas from around Stanislaus County
"One Table is about coming together and enjoying a night filled with all your favorite places to eat in and around Modesto at one location! We are so excited for One Table this year, as the event keeps getting bigger and better" said Francine DiCiano, President and CEO of United Way of Stanislaus County. Some of the restaurants and chefs already on the menu include Papachinos, Brunt Artisan Bread, Redwood Café, Bayou, IT Culinary, Culture Coffee Bar, Cheesecake Kitchen, and Churchkey. "We have such amazing and talented restaurants and chefs that participate in this event, it's really something seeing them come together to create an experience from start to finish," said DiCiano,
This year's One Table event is presented by United Way of Stanislaus County and E. & J. Gallo Winery, proceeds raised from the event will support United Way of Stanislaus County in alignment with Focus on Prevention. Sponsorship opportunities are still available. Tickets for this event are $125 each and can be bought at onetablemodesto.com.
About United Way of Stanislaus County
For over 60 years United Way of Stanislaus County has been a non-profit leader strengthening our community. United Way's mission is to unite our community to strengthen lives through education, health, and financial independence. By addressing root causes of issues in the community, we work to improve the lives of all residents living in Stanislaus County. Right here in Stanislaus County, your local United Way is hard at work within the Focus on Prevention movement. Our priorities are clear, and we strive to build a community where
Every man, women and child has a safe place to stay off the streets
Our children are provided a first-rate education from cradle to career
Families are healthy and supported with services that help them thrive
We endure safe spaces and neighborhoods for all
Together we can do more, through collaborations that share expertise and resources
About E & J Gallo Winery
Founded by brothers Ernest and Julio Gallo in 1933 in Modesto, California,[gE. & J. Gallo Winery is the world's largest family-owned winery and the acclaimed producer of award-winning wines and spirits featured in more than 110 coun- tries around the globe. A pioneer in the art of grape growing, winemaking, sustainable practices, marketing and world- wide distribution, Gallo crafts and imports wines and spirits to suit a diverse range of tastes and occasions, from everyday offerings to boutique, luxury bottlings.
The Gallo portfolio is comprised of more than 100 unique brands, including Barefoot Cellars, Dark Horse, and Gallo Family Vineyards, as well as premium box wines The Naked Grape and Vin Vault. Premium offerings include Apothic, Carnivor, Columbia Winery, Ecco Domani, Edna Valley Vineyard, J Vineyards & Winery, Louis M. Martini, MacMurray Estate Vineyards, Mirassou, Souverain, Talbott Vineyards, and William Hill Estate, along with highly acclaimed imports, such as Alamos, Brancaia, La Marca, Las Rocas, Martín Códax, Whitehaven, and LUX Wines, importers of Allegrini, Pieropan and Renato Ratti. Gallo Spirits currently offers New Amsterdam Vodka and Gin, Familia Camarena Tequila, RumHaven, Lo-Fi Aperitifs, E&J Brandy, Argonaut Brandy, Germain-Robin Brandy, Diplomático Rum, as well as imported Scotch whiskies from Whyte & Mackay, including The Dalmore, Jura and John Barr.
For questions please email Caroline Campana, Marketing Coordinator at United Way of Stanislaus County at ccampana@uwaystan.org
Comments
comments
Middagh Goodwin LIVES Music. He has been booking and promoting Music, Art and Comedy for years in the Central Valley. He ran the award winning Plea for Peace Center in Stockton for 5 Years and has booked bands from A-Z. Middagh is beginning 2016 with a new position at the Gallo Center for the Arts and celebrating Beat Happy! Music's 30th Anniversary. Read the MAMAView every month and a the Needle Drop 52 Records 52 Weeks.