Recap: The Murphys 6th Annual Witch Walk: Eat, Drink & Be Wicked!
By Brandilyn Mitchell 
Calaveras County is a 90-ish minute drive northeast of Modesto, and boasts some spectacular things to do and see, including being the home of the little gold-rush town of Murphys. You'll notice as you walk around enjoying the sights and sounds that Murphys looks as if "gothic" met "western" to create the Victorianesque town–but honestly, isn't that what "Victorian" is? The high collars, the lace, the cameo brooches, the finesse and elegance wrapped ever so gently with macabre: because the introduction of the camera brought with it a fascination for photos of the dead and an obsession with taxidermy. As if the aesthetic wasn't enticing enough for Murphys, "Calaveras" is Spanish for "skulls". So Murphys California is the perfect location for an annual Witch Walk. And oh, did we mention all the libations at your fingertips?! On Main Street alone there are 25 tasting rooms and a handful more within a radius of 5 miles.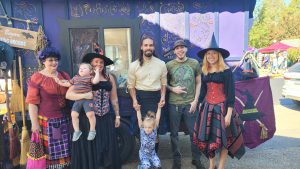 BrewView wasn't going to be caught dead missing the 6th Annual Murphys Witch Walk from 11 am-8 pm on Saturday, October 15th. Main Street was transformed into a *free and family-friendly* witchy maker's market. While the storefronts, restaurants and tasting rooms were our ultimate destinations, we had the most fun between all the stops meeting people and swapping stories and pausing for pictures. Century 21 was letting kids trick or treat at their store and giving out candy-filled mini cauldrons!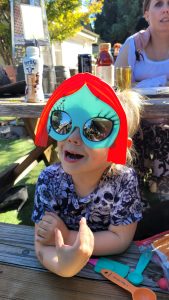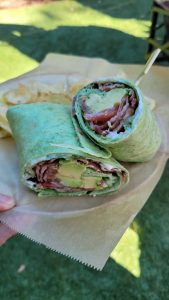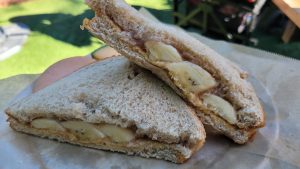 You are encouraged to dress up as your favorite witch or warlock (though no costume will be frowned upon, the point is to dress up and have fun!). With the release of Hocus Pocus 2, we saw quite a few Sanderson sisters. The costumes were fun for wearers and lookers alike and were a big part of the great Witch Walk experience. Pictured below is our group from Modesto, showing off our witchy costumes!
The Murphys Witch Walk was founded in 2016 by Teresa Rodriguez, owner of the Potted Plum, located at 90 Big Trees Road at the corner of Main Street. Teresa learned about a successful witch-themed community costume party held in Livermore as a promotional endeavor to attract attention to local retailers, and she decided it would be worth hosting one to promote retailers that are 'off the beaten path' of Main Street. Murphys Witch Walk was born to bring people to enjoy the unique shopping, wine tasting, entertainment, and dining Murphys has to offer. Christopher Buttner, a longtime entertainment and event marketing professional who's worked on major concert tours to internationally-known San Francisco costumed festivals, joined the ranks as Co-Owner/Creative and Marketing Director in 2020. The two were made to run this event together-they make it seem effortless and their talents have turned this event from dream to reality year after year.


This year, the Murphys Witch Walk chose the Ronald McDonald House Charities Northern California for their charity in honor of 9-year-old Wyatt Walker of Murphys. "Super" Wyatt, as he has come to be known due to his resilience to adversity, was diagnosed in December 2021 with Medulloblastoma Brain Cancer, at which time he underwent emergency surgery to remove the tumor from his brain. Over these 10 months, Wyatt continues to receive ongoing treatment and RMHCNC has been integral in helping Wyatt and his family. As a Murphy resident, they hope to raise a lot of funds for RMHCNC as a way to give back. 
After visiting Murphy's Village Toy Store first thing to let our daughter pick out something new to play with over lunch, we wandered down to Murphy's Pourhouse, which had plenty of shaded outside seating and an area for our little to run around. The menu was a delectable array of sandwiches and wraps and booze (and the best menu selections for your littles on the whole street!). We got the Apple Butter with Banana Sandwich for our daughter and we split the Caverns-a spinach tortilla wrap with bacon, avocado and all the veggies. They had B. Nektar mead on Nitro, so OF COURSE, that is what we had for our first round. The second round was Indigeny's Black Currant Cider.
We next went to the Man Cave (where the hubs found an amazing leather-wrapped stainless steel flask with 3 shot "glasses" that hook onto the top), then off to the Main Vendor Hall (where our daughter was drawn to Semi-Precious-Sister's table and refused to go anywhere else in the building until she had picked out a crystal point howlite to carry around as a magic wand), and then to DarkSide Cafe for their delicious Butterbeer and photo opportunities with R2D2 and C3PO.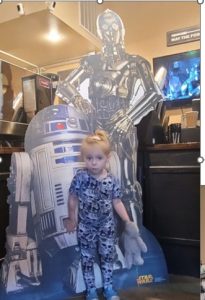 We walked Main street at least 4 times and had a blast making friends, admiring costumes, sampling new food, and selfie-ing with all the decorations. After checking into the Murphys Motel Inn, we headed back out one more time for wine tasting and dancing at Vina Moda Winery and then dinner at Alchemy, where we shared a burger with garlic fries and our little one had chicken nuggets with fruit. There was plenty of shaded patio seating and couches at Vina Moda too, and it was hoppin' with other families so our little one made fast friends, giving us an opportunity to just sit and enjoy a nice break watching her play. 

After we checked out from the motel on Sunday, we grabbed a coffee from Gold Country Roasters. Both our drinks are offered on the Halloween menu, and our little one enjoyed a warm waffle!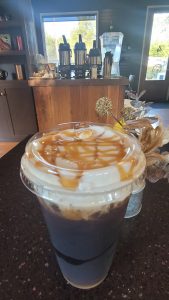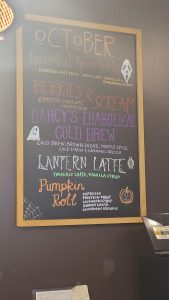 In Murphys there's plenty of shade, plenty of space, and plenty of things to eat and drink, and I know they'll deliver a cackling-good time for your whole coven! By Jove, I think you should even make this your new Halloween tradition and stay the whole weekend! Why? Because we did and had a blast! With Saturday jammed-packed at the Witch Walk, you can stay at the Murphys Historic Hotel, the Victorian Inn, or Murphys Motel Inn before heading back down the hill on Sunday. There are events hosted the day after for your family to attend like the Columbia Kate's Witch Tea in Columbia State Park or the Indigeny Fall Fest in Sonora (which is where we ended up so we take our annual pumpkin patch photos!) We hope you come next year and enjoy it with us! 
Bring on the rain, and a bottle of Wonky & Wry's Honey Braggot Ale. Loves to roast marshmallows over a fire. Enjoys the mix of cigars and whiskey.