MAMA Recap
By Middagh Goodwin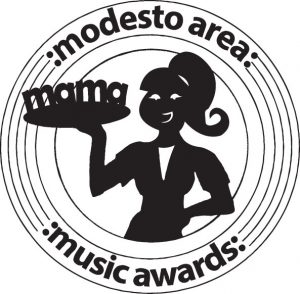 Another year has come and gone for the Modesto Area Music Award and this year was one for the books. Members of all walks came together at the State Theatre to celebrate live entertainment in the great Modesto area, jazzheads mixed with metal heads, and we had some of the youngest and oldest performers on stage. It was my honor to host the show this year and I am happy to say that the show stayed on time(thanks in large part to Jenn Allsup.) I am sure Murphy and Ricci had no idea that this event would still be going strong 23 years after they first had the idea for a local awards show.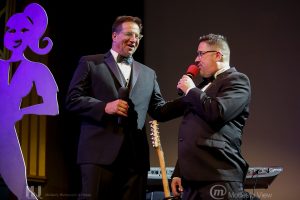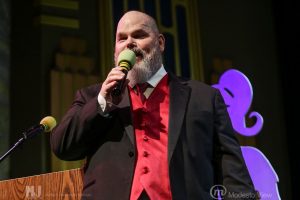 Things kicked off with a special performance of the MAMA song by Randy Lofing and Friends, Randy would later be presented with a dashboard mama for his composition. Two other dashboards would be presented one to Roger Hanner of Celestial Sounds and the other to Collins Electric.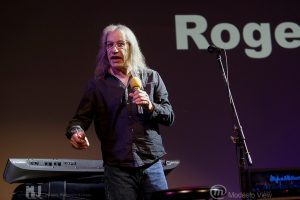 The stage was filled with talented musicians all night long and the State was filled with their music. Marirose Powell, Chris Doud and Patty Castillo Davis all took the stage and accompanied each on their own original arrangements. Later Darin Morris would introduce the youngest band to take the stage at the MAMAs, Sound Playground and they got the crowd rockin'. Burning Bridges another young band who just released their debut CD represented the Hard Rock/Metal category with a rousing performance. Portrait of Elysia is another band to keep your ears out for and they up the bar for what a band should strive for sonically. Maybe my favorite performance of the night of highlights was Los Reales del Norte who took the stage and got people dancing and kept them dancing for a couple of extra songs. Ending the night was Cobalt 45 and NicFuq and like every other act that took the stage, they showed the level of talent that our area has to offer. Special thanks to Mark Oseau for making all the acts sound great.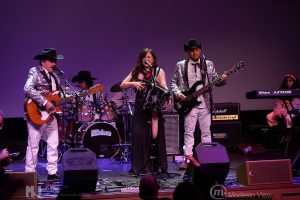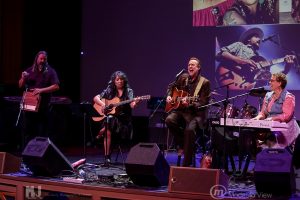 Kyle Barker was presented the Lifetime Achievement Award by Chris Murphy and then played several standards that you likely have seen him do over the last 60 years.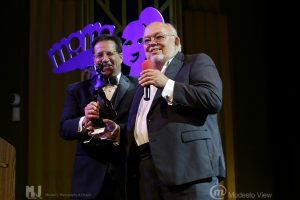 Thanks to Gabby and the staff at the State Theatre for always giving us a home, and to all the photographers who always come out and document the event so well in pictures. Diedre Reyna and Tiffany Bradley for working the check-in table, and Grace McNamara for being our trophy presenter once again. Props to Nick and Johnny from Sierra Pacific Warehouse Group for coming out early and setting up the stage, stand and repeat and parklet out front. Thanks to Darin Morris and VMI for providing the gear. Last but not least Elliot Gage and Carlos Rodriquez for all the tech support and for broadcast the show live. 
Once again thanks to all the MAMAnees but I won't keep you in any more suspense, here are the Winners of the 2022 Modesto Area Music Awards created each year by Beeler Industries.
Unplugged
Tea Noelle
Bar, Cafe, Restaurant
Ralston's Goat
Blue Collar
Sweet Mama Rachel & the Homemade Jam Band
Youth Band
They Catch Secrets
Jazz/Blues
Mike Hammar & the Nails
Hard Rock/Metal
No Silence
Americana
Golden Bough
DJ
DJ Jag
Event
Porchfest
Latin
Valley Wolf
Alt/Indie
Portrait of Elysia
Hip Hop
Cobalt 45
Comedian
Molly Magee
Keep on our radar by sending your gigs to events@modestoview.com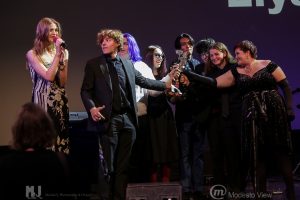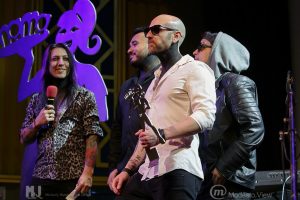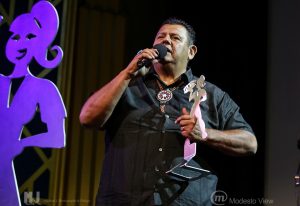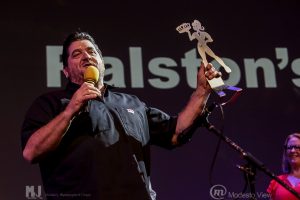 Middagh Goodwin LIVES Music. He has been booking and promoting Music, Art, and Comedy in the Central Valley for years. He ran the award-winning Plea for Peace Center in Stockton for 5 Years and has booked bands from A-Z. In addition, he is the managing editor of ModestoView and writes the MAMAView and GeekView. Middagh works with the Modesto Area Music Association and books Music in the Plaza. In addition, he owns and operates Graffiti-Con, where cars and pop culture intersects. More recently, Middagh has been working with the Graffiti USA Classic Car Museum, helping to create unique events that help raise funds and awareness of the museum and its mission. On top of that, you can tune into one of two shows that Middagh Goodwin hosts on KCBP 95.5 FM; This is SKA and MAMA Radio.