RockabillyView: Celebrating Modesto's Roots in Music
By Middagh Goodwin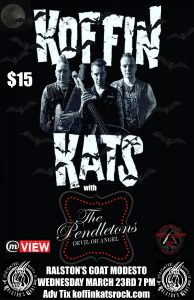 A key component and root sound of Rockabilly and in turn Rock n' Roll can be traced back to the Doghouse slap bass style of Fred Maddox. The Maddox Brothers and Rose started playing music in Modesto back in 1937 and garnered crowds wherever they played. Bill Black, Elvis's bassist was a huge fan of Fred Maddox and taught himself how to play like Fred by pounding the crab out of the strings to make a beat and learning some fingering, he kept the percussive attack which created a loud distinct slapping style then it crudely became musical, influencing a million players that remain a staple in Rockabilly and in course Rock n' Roll. Fred Maddox's bass is displayed at the Experience Music Project in Seattle. "They wanted his bass because they believe he might have hit the first note of rock 'n' roll on it."  The Maddox Brothers and Rose are part of Modesto and the World's musical history.

The ModestoView celebrates our ties to Rockabilly with monthly Rockabilly concerts and plans to create a yearly Rockabilly Luau to take place at the Graffiti Car Museum. On Wednesday, March 23rd at 7 pm come out to Ralston's Goat for the next Rockabilly Cruise Night with America's premier Psychobilly band The Koffin Kats returning to the 209 for the first time to grace a stage in the 209 in 6 years(the last time was at the Gypsy Shack in Sonora) and even longer since they rocked Modesto.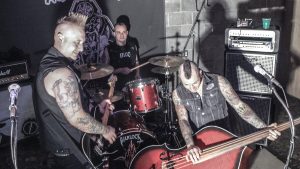 Koffin Kats are a psychobilly trio from Detroit, Michigan. Fusing the swing of classic rockabilly with the hot-wired energy and ghoulish imagery of the Misfits, this band proves that high-octane psychobilly is still alive and kicking in the American midwest. Formed in 2003 Koffin Kats were formed in 2003 by lead singer and upright bassist Vic Victor and guitarist/vocalist Tommy Koffin, who had been part of the Motor City punk scene for some time before trying their hands at the doom-struck twang of their punk-rockabilly fusion. Eric "E-Balls" Walls performed with them in that first year, took a break and returned in 2007 and they have not slowed down. Releasing With 8 full-lengths, a split and 2 EPs they have consistently put out new music and have constantly toured since they hit the road in 2004 to support their Self Titled debut. They are currently on tour to support the "Ya Can't Take It With Ya" EP that was released during the Pandemic.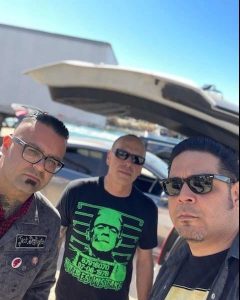 Opening up the show is Modesto's own Tony T and the Pendletons fresh back from a run of shows including the Rockabilly Reunion in Lake Havasu in Arizona. I talked to Tony at Trevino's Barbershop recently and he told me the band has booked studio time and will be recording several new songs to be released soon. They will also have music in the bonus features of the prison exploitation film Reform School Girls deluxe Blu-ray. If you need to get your hair done, need some pomade or other hair care product or looking for some cool rockabilly music stop by the barbershop when you are on 10th Street in Downtown Modesto.

Come on out for some great music on March 23rd at 7 pm at Ralston's Goat located on the Historic Graffiti Cruise Route and celebrate Modesto's History in Music.

For tickets go to www.koffinkatsrock.com/upcoming-shows and click on the date for Ralston's Goat.

Make sure to like and follow to keep up with what is happening.
www.facebook.com/ThePendletons
www.facebook.com/koffinkats
www.facebook.com/tonytrevinobarber
www.facebook.com/GraffitiUSAMuseum

Middagh Goodwin LIVES Music. He has been booking and promoting Music, Art and Comedy for years in the Central Valley. He ran the award winning Plea for Peace Center in Stockton for 5 Years and has booked bands from A-Z. Middagh is beginning 2016 with a new position at the Gallo Center for the Arts and celebrating Beat Happy! Music's 30th Anniversary. Read the MAMAView every month and a the Needle Drop 52 Records 52 Weeks.