BrewView: Rodin Ranch Farmers' Market: Mixers & Mocktails
By Brandilyn Mitchell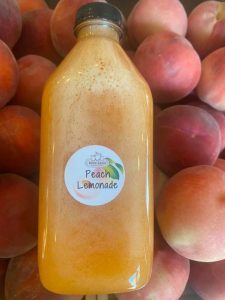 How do you host a holiday party with yummy drinks for everyone: those who partake as well as your beloved teetotalers and all the kiddos? Do you like mixing cocktails but have a toddler who wants to partake from your glass all the time? We all have family members who choose to abstain for all kinds of reasons, so how do you make them feel super special and included when they're visiting your home?
My secret: Rodin Ranch's homemade lemonades and juices! Oh, these are so delightful and refreshing! Rodin offers any flavor you could want, each made fresh daily: watermelon, peach, strawberry (or strawberry kiwi!), ginger, blackberry, mango, pineapple, and we've tried them all. At $6 for a half gallon, they're a steal of a deal. They last 7 – 10 days in the fridge. If you're coming up on the expiration date and have some left (which is doubtful-I bet this won't last 24 hours in your house), make some ice or popsicles with the remaining juice to consume later.

They can be mixed with alcohol and bitters for a delicious libation or served on their own for anyone who can't have or doesn't like alcohol. All you need is a fancy glass or flute to make your visitors feel like they are an integral part of your holiday cheer. And they will think you slaved to make that drink, when it really took you less than a minute!
Our favorite is the peach, followed closely by the pomegranate. They're very versatile and bursting with flavor so you can drink it as is or if you're creating a mixer just add a shot of rum or vodka to make a delicious beverage. Use any of the citrus based ones as a base for your Gin & Juice to change things up. No matter who is drinking your creations though, set a sprig of mint in it or give it a sugar rim so it looks picture perfect!  The Ginger makes a scrumptious Hot Toddy too, so we recommend that one as we get into the colder months! Yummy!

Looking for snacks too? They have you covered. Fruit trays, nut trays, or grab a box of the Sugar Plums, and start a new tradition with your loved ones: made from local dried fruit and almonds, fresh honey, sugar and spices. Each sugar plum is made by-hand-to-order so they are always fresh. At $25 a box they are a steal!

The story of Rodin Ranch starts before 1969, but I'm going to start off in the Anthony Rodin chapter: at age 21 Anthony moved to Modesto to operate the family farms that would make Rodin one of Modesto's most known farming families, growing almonds, cling peaches, nectarines, plums, pluots, apricots, grapes, freestone peaches, tomatoes and melons. Rodin became a name we all know and love. His daughters, Marie and Angie Rodin, took over the family business and in December 2014 they made a bold step to open a Farmers Market in downtown Modesto at the corner of 10th and J serving the freshest fruit from their farms and many of the products of her family & friend's farms. Their shelves are lined with products like dried fruit, raw and flavored nuts, nut butters, elderberry syrup, honey, olive oil, popcorn, and fudge. Don't forget to get a coffee to go-try the daily coffee special because you can't go wrong with something like a peanut butter cup latte! 
I hope you will enjoy making new memories this holiday season with Rodin Ranch's lemonades and treats. Let the turkey eating commence and sip on, friends!

Rodin Ranch Farmers' Market
1001 J Street, Modesto
209-577-3224
Mon-Sat 8 am – 6 pm
Closed Sundays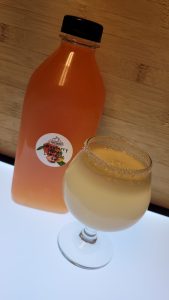 Bring on the rain, and a bottle of Wonky & Wry's Honey Braggot Ale. Loves to roast marshmallows over a fire.