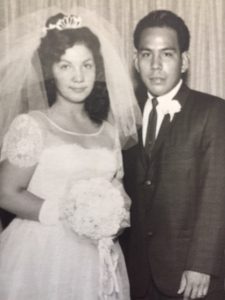 The Gleam In Dad's Eye
By Patty Castillo Davis
The answer to "Where Were You In '62?" is the title of my column this month. My stoic, quiet Dad, Alonzo Castillo is the sole reason I am in BIG love with Linda Ronstadt today. He cultivated a musical environment from which I gleaned influences from Tex-Mex, Motown, Folk, Country, Mariachi and Rock to create my own original sound. There was never any censorship impact on my sonic enjoyment, no volume control unless it would compete with his listening. There would be no song concepts without Cash, be no lyrics without Linda, no melodies without Merle, no accomplishment without Aretha. Thanks, Dad for laying the foundation for an Arts rich home and your continued support.
Deva Café on J Street has a cool lineup of entertainment in June- everything from Pop to Reggae and every style in between. Sunday Breakfast music is the side dish to the delicious crepes, savory scrambles and bottomless Mimosas-6/3 brings Tim and Patty, 6/10 Koala and the Golden Boy, 6/17 Nathan Ignacio, and 6/24 Natalie Marie Pizzo.
Thursday, June 21, Tea will release her original EP "Shallow" in a showcase with supporting artists- Seven Year Sleep, Sol Riddim with DJ music by Joseph Walker. Doors 6 pm, show at 7 pm, gate $5. On Friday, June 22, BoHo artist Josephine Johnson comes through Modesto to support her new album with a show at 7 pm.
The Barkin Dog Grill will host the DB Project in its mission to raise funds for disadvantaged children when it partners with GK Music. Prolific young musicians will perform on Friday, June 1 at 7 pm. This is a free show but donations will be greatly appreciated. On Friday, June 15, Willie Hines and Patty Castillo Davis team up again at the Dog for a night of original music and reinventing cover songs full of harmonies joined by some special guests. This is a free show and reservations are strongly suggested.
Red Tie Arts are presenting its first show of 2018 on June 9 at Lucca Winery in Ripon. Stealin' Chicago and Aja Vu will open the season with MAMA winning Singer Songwriter Patty Castillo Davis as a support artist for this concert. Find ticket info at www.RedTieArts.org.
Take in a show this month and meet some talented artists-
6/1 Marirose  Scotto's Wine and Cider Lodi 7 pm
6/1 Dan Vallerand and Chris Farris Queen Bean Unplugged 6 pm
6/1 Young Dubliners  Black Oak Casino 9 pm
6/8 Nate Botsford  Black Oak Casino 9 pm
Comments
comments