Something to Laugh About
By Middagh Goodwin
Comedy has sometimes been the red-headed stepbrother to the entertainment scene in the 209. The last few years have shown that comedy is a force in the 209, and at the State Theatre's American Laughiti comedy competition, where Scott Powers took home $5000 keeping a nearly sold-out crowd laughing for his 13-minute set, and Nick Larson squeaked out a win in a post-show laugh-off against Rhoda Ramone winning $1500.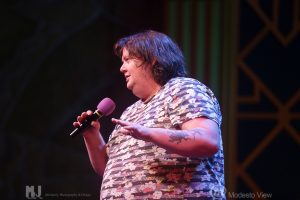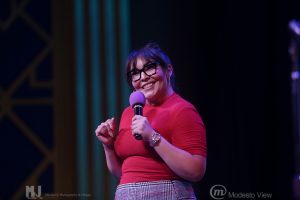 You no longer have to go to Sacramento or the Bay Area for a fun night of laughter, you can catch great locally-produced shows nearly every week in the Modesto Area.

Here are just a few you might want to check out to get your recommended dose of laughter.
August 2nd Spotlight Lounge, Modesto. Pete Munoz with Marcus Peverill, David Samuel, Mikel Nordstrom
August 9th Contentment Brewing, Modesto, Molly Magee, Scott Powers, Dejan Tyler, Erik Power
August 18th The State Theatre, Modesto, Marcella Arguello, Lydia Popovich
August 19th The Hotbox, Modesto, Jimmie Menezes, Serena Gamboa
August 25th The Post Restaurant. Modesto, Roman Guzman, and special guests
August 26th The Wildflower, Galt, Rhoda Ramone, Thu, Andre Morton(Comedy Special Live Filming)
August 30th Grains of Virtue, Oakdale, Marcus Peverill, Eric Power, Brandon Knowles, Gabriel Alexander
Middagh Goodwin LIVES Music. He has been booking and promoting Music, Art, and Comedy in the Central Valley for years. He ran the award-winning Plea for Peace Center in Stockton for 5 Years and has booked bands from A-Z. In addition, he is the managing editor of ModestoView and writes the MAMAView and GeekView. Middagh works with the Modesto Area Music Association and books Music in the Plaza. In addition, he owns and operates Graffiti-Con, where cars and pop culture intersects. More recently, Middagh has been working with the Graffiti USA Classic Car Museum, helping to create unique events that help raise funds and awareness of the museum and its mission. On top of that, you can tune into one of two shows that Middagh Goodwin hosts on KCBP 95.5 FM; This is SKA and MAMA Radio.