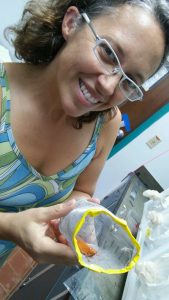 UnpluggedView: Songcatchers
by Aaron Rowan
A warm tropical evening on an island in the Panama Canal. I join my dear friend on the balcony of the laboratory building, where she is about to wind down another day of research in the best possible way – the making of live music. A few of her fellow scientists here are also fellow musicians, and tonight she and her banjo are accompanied by a guitarist from Germany. They pair well with a few folksy songs. A third player takes up his seat to join the fun – a clarinettist! An orchestral folk-rock jam welcomes me to my first night on this island where very few have had the privilege of setting foot.
Sharon and I go back to my first year as a music curator, and she is one of the songwriters I most look forward to hosting. But for the past two and a half months, she has devoted herself to the study of katydids on this island, recording and analyzing the unique song of each specimen she collects. It appears that katydids are slowly phasing out the practice of chirping, possibly as a survival adaptation against the bats which hunt them by sonar. As Sharon puts it, her current research project is like studying the evolution of silence.
After a few days and nights exploring the rainforest, meeting new critters both cute and creepy, and running up and down hillsides helping Sharon rustle up her katydids, I return home and waste no time jumping back into the wonderful work of bringing some of the most unique and interesting live music to Modesto. A few good friends and I are doing what we can to ensure that such beautiful sounds do not disappear from the area. Come by and see what we have to offer, and you'll experience a side of the Modesto music scene you may not be used to.
Many of this month's highlights evoke a sense of the natural world. April 7, Wendy Burch Steel & Redwood bring sweet bluegrass and folk to Moon & Sixpence (500 9th St. between E & F). 7:30 PM, $15.
April 13 & 14, Modesto Symphony presents 'Nights In The Gardens Of Spain' featuring works by Spanish and Brazilian composers, with a special guest pianist from Venezuela. 8 PM at Gallo Center.
April 15, Sunday Afternoons At CBS closes its season with hometown favorites California Zephyr. 3 PM at 1705 Sherwood Ave.
April 27 & 29, Townsend Opera stages the classic 'Madame Butterfly,' directed by local world-touring opera star Annalisa Winberg. 7:30 and 2:00 PM respectively at Gallo.
Comments
comments