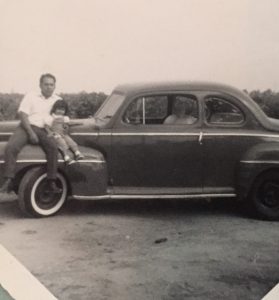 Songwriter View: Songs For My Daddy-O
By Patty Castillo Davis
I was singing before I could walk. My household was made vibrantly alive and musically influential because of my parents. My Father, Alonzo Castillo is a transplant from Corpus Christi, Texas who fell madly in love with a California girl and the California Sound. The Doobie Brothers, Santana, The Eagles and the Queen Of Everything, Linda Ronstadt were the 70's soundtrack during my upbringing. My Dad said Joe Jones' hit from 1960, "You Talk Too Much" and Neil Young's "Cinnamon Girl" from 1969 are songs for me. Thanks, Dad for the gifts of music.
A personal shoutout to Cindy Lashbrook for her beautiful Riverdance Farms "Pick and Gather" event in Livingston. She includes conservation, art, music and brings sustainability to her community. It's a joy to be invited to perform on June 1 and 2. For info visit 
riverdancefarms@gmail.com
The Barkin Dog Grill Wine Wednesday will bring MAMA winner Melynda Rodriguez on June 5 for some Indie-Alt piano and vocals. The Vibes will bring a tribute to Eric Clapton/Steve Winwood on June 12 featuring the mad guitar skills of Joe Barretta. All ages free shows start at 7 pm.
Deva Cafe hosts Drum Love every third Saturday of the month at 3 pm for a community Drum Circle. Beginners to advanced, bring your own drum or use one of theirs. Free, all are welcome.
Deva Live Saturday Music Matinees and Sunday Breakfast Music brings an eclectic array of styles into June. Music starts at 10 am 1 Ava Grace, 2 Tim Lechuga, 8 Seth D Baker, 15 Josh Davenport, 16 Tim and Patty, 22 Funstrummers, 23 Ignacio.
The June 15 PatioFest will match 19 performers and 19 venues for a great recipe of music from 6-9 pm. Yours truly will be performing at Galletto Ristorante, I hope to see you there!
Simply Allison will be performing her Indie acoustic show on the ModestoView Stage on June 20 at the Third Thursday Modesto Art Walk from 6-9 pm.
Most Wanted Wine Bar hosts Koala and the Golden Boy On June 1 from 6:30-9:30 pm
June 7, Graffiti Night on the Plaza starts with Threshold during the cruise and after, finishes with an ode to Motown with Triple D, Third Party and the Patty Castillo Davis Band. 
Summer ushers in an array of music opportunities. Allow your space to become a live music venue. To those porches rained out last month- you can finally fulfil your outdoor concert purpose. Venue owners and keepers, please consider women artists on your talent roster, those extraordinary ones will fill a house, theatre or auditorium. Do you know a great female artist who is looking to promote? Send inquiries and info to 
pcdenterprises@yahoo.com
@PCDMama3
www.Pattycastillodavis.com
Comments
comments