Sparks Fly Candle Co. Massive Expansion This Spring
by Brandilyn Mitchell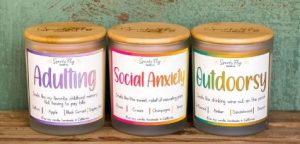 Sparks Fly Candle Co. has been taking the valley by storm. If you haven't seen their booth at an event yet, I'd like to introduce them to you. Owned by Kayla & Chad Roslan, they started really small at a farmer's market up north in Washington state, and expanded when they moved back to their hometown, Modesto. They just opened a pop-up at Vintage Faire Mall and will be back at the Modesto Certified Farmer's Market in March. Sparks Fly fills a truly important business niche: it is a woman & veteran owned business. Kayla's handiwork are the candles and she is the company's operations manager. Chad designs the labels and is (mostly) responsible for the catchy tag-lines on all the products. She is a Navy Veteran and Chad is active-duty Navy. They have a son James and two pups Moose & Mia.
James was born at the end of 2019-and we all know what came in March 2020. Before Kayla's pregnancy she was a biochem major, but during the early days of the pandemic, only essential workers were offered childcare. She no longer had the ability to go to work or school. She decided to try a new hobby instead: candles. (Hello chemistry!) It turned out to be a lot of fun and her family loved the end product, encouraging her to go farther with it. "Chad is really good at graphic design and we knew we wanted to make people laugh," said Kayla. "It was such a dark time in the world; we wanted to bring joy directly to people's homes. We've been officially in business since October 2021." Even outside of a pandemic, dark times come and go, and if giving someone a thoughtful gift makes them giggle, I am all about that!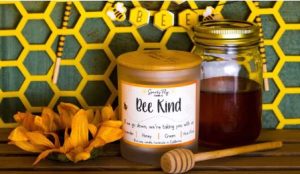 MV: What drew me into your booth originally were the cute names and tag-lines. How do you come up with them?
KR: All of our candles are based off of personal life events. We try to think about mundane parts of our lives that everyone can relate too. There are some things we've been through that are just universally human or are experiences that most humans have had at some point in their lives. We love being able to bring a humorous approach to everyday life. 


MV: What has been the most fun part of a candle business?
KR: We have designed so many really cool candles for so many different events. It feels great to be a part of someone's special day in a way that is totally unique to them. It's also pretty great when people come up to our tables and just start laughing when they read our candles. Watching them discover who we are and what we're known for is such an amazing feeling.
MV: I love your candles. The flickering wick is a neat bonus, but the SCENTS! My favorite is "Coffee: because hating your job should be done with enthusiasm." No other coffee candle smells as heavenly as yours. The bean-to-sweetness ratio is just *chef's kiss*. Do you have a favorite scent?
KR: I have so many favorites and they change with the seasons! My summer fave is "Quarantine Succs: smells like my plants are the only things thriving this year!" It's a very crisp citrus fragrance. I also love our "Happy Birthday: you're still hot, even if it's just in flashes!" When I make this my entire neighborhood smells like a bakery.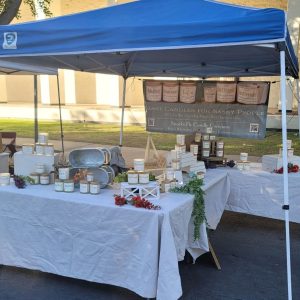 Modesto Certified Farmer's Market
Their goal for the future is going to be to focus on candle making events. They offer a unique candle-pouring experience that comes to your home or business to teach you the whole process. You don't have to make a dupe of an established scent, you can create your very own one-of-a-kind fragrance from the fragrance bar. "We come to you, so BYOB & let's get pouring!" laughs Kayla. Oh yeah, sign me up! Making beer is chemistry and I love that, so this sounds right up my alley. There is more information on their classes on their website, linked below.

You can find their candles and melts online as well as at the Vintage Faire Mall, the Modesto Farmer's Market, the Oakdale Chocolate Festival, the Modesto Graffiti Car show and more events this summer! On April 20th, they are hosting a candle pouring fundraiser for Oakdale High's Sober Grad Night at Pak Mail in Oakdale, CA. Tickets and more information on events are also on the site.
If you love supporting small and local business, as I think you do because you are reading the ModestoView right now, please check out Sparks Fly. I know you will appreciate what they do with the same fervor as me.  If you take a class or visit their booth, please tag your social media photo #modestoview for a chance to be featured in REARVIEW.
Sparks Fly Candle Co.
www.sparksflycandle.com
Pak Mail, Oakdale
Remember When, Modesto
Vintage Faire Mall, Modesto
Modesto Certified Farmers Market 
Bring on the rain, and a bottle of Wonky & Wry's Honey Braggot Ale. Loves to roast marshmallows over a fire.