StanRTA Named 2023's Outstanding Transportation Agency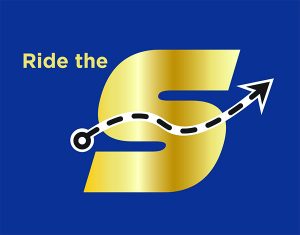 Modesto, CA — The Stanislaus Regional Transit Authority (StanRTA) announced that it was awarded the California Association for Coordinated Transportation's (CalACT) Outstanding Transportation Agency Award for 2023. The award was presented to StanRTA Chief Executive Officer (CEO) Adam Barth and his team at a CalACT awards luncheon on Tuesday, April 18, in Olympic Valley, CA. The S is the newest agency ever to receive this award.
StanRTA has been a member of CalACT since the regional transit system was formed in 2021 and was nominated for this year's Outstanding Transportation Agency Award for its success in merging the former Modesto Area Express (MAX) and Stanislaus Regional Transit (StaRT) systems to form The S. The Authority established the core value that transit is a reflection of its users and is successful only when it meets the user's needs. Through this principle, and under the guidance of the StanRTA Board of Directors, Barth and his team were able to establish a new brand that made seamless the formerly fractured route system, create service equity, implement sound financial and administrative practices and policies that could meet evolving needs, and form relationships with Stanislaus County's diverse communities through outreach and marketing activities. Such milestones were accomplished in two short years and caught the attention of CalACT.
"Each year, CalACT recognizes members that contribute significantly to promoting professional excellence, stimulating ideas, and advocating for effective community transportation. StanRTA exemplifies this recognition this year," said Steve Chung, Associate Board Member of CalACT. "This award reflects the respect StanRTA has in the CalACT community." CalACT has over 300 members, including large and small transit and paratransit operators, social service organizations, government agencies, and commercial vendors. In addition, CalACT is a proactive transit voice in the Sacramento and Washington, D.C. legislatures.
"This award speaks volumes to the level of participation we get from the community to shape and grow our public transportation system in Stanislaus County," said Barth. "From attending community outreach events and participating in surveys to asking questions at presentations and Council meetings, StanRTA believes this award directly results from listening to our riders.
StanRTA was formed in 2021 through the consolidation of Modesto Area Express and Stanislaus Regional Transit and is the provider of local and regional public transit in Stanislaus County. StanRTA operates fixed-route, demand-response, and commuter services. For more information, visit www.stanrta.org or call 209-527-4900.
ModestoView features contributors from our community on a regular basis. We enjoy and welcome these honorary ViewCrew members. If you would like to message them, email to info@modestoview.com