Stop, MAMA Time
By Middagh Goodwin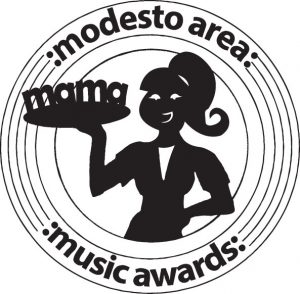 23
It's an exciting time of year again, as we eagerly await the call for MAMA nominees from within the 209 area code. The ModestoView calendar serves as our guide, allowing us to note many events and performances throughout the year. This gives us a unique perspective when summer comes to an end and we start narrowing down the candidates for the top 10 vying for the coveted stainless steel carhop trophy. However, we don't stop there. We want to hear from venue owners, promoters, and performers alike about who they think deserves to be part of the Modesto Area Music Awards.

Once we receive the nominations, we group them into categories narrowing them down to 10 nominees in each. As with the music scene itself, the Modesto Area Music Awards are fluid and ever-changing. The very first MAMA awards had only seven categories, which grew to over twenty over the years. However, last year we had only thirteen categories. We're excited to see what the future holds, and whether categories such as Punk, Reggae, Rockabilly, and Metal will return to full strength or if new ones will be added, combined, or removed. It all depends on the number of nominees we receive for each category.

Therefore, we urge you to send in your choices for as many categories as you feel comfortable submitting. You can find the full list from Alternative to Youth on our website www.modestoareamusic.com. The more nominations we receive, the richer the music scene we can represent.

Moreover, we'd like to emphasize that the voting process is fair and transparent. You are the Academy and you choose the winners. This means that your voice matters, and we encourage you to participate in the voting process. Voting goes live in early September, until 11:59 pm on October 15th.

Finally, we'd like to invite all MAMA nominees and their guests to celebrate with us at the historic State Theatre on October 17th at 6 pm. We believe this is going to be an unforgettable night, and we'd like to share it with you. For those who are unable to attend, the event will be streamed live on the ModestoView website, so you can still be part of the excitement. Good luck, and we hope to see you at the MAMAs.
Middagh Goodwin LIVES Music. He has been booking and promoting Music, Art, and Comedy in the Central Valley for years. He ran the award-winning Plea for Peace Center in Stockton for 5 Years and has booked bands from A-Z. In addition, he is the managing editor of ModestoView and writes the MAMAView and GeekView. Middagh works with the Modesto Area Music Association and books Music in the Plaza. In addition, he owns and operates Graffiti-Con, where cars and pop culture intersects. More recently, Middagh has been working with the Graffiti USA Classic Car Museum, helping to create unique events that help raise funds and awareness of the museum and its mission. On top of that, you can tune into one of two shows that Middagh Goodwin hosts on KCBP 95.5 FM; This is SKA and MAMA Radio.