Martial Arts Fitness
By Efren Martinez

Kung Fu, Karate, Judo, Tae Kwon Do, and Aikido are all forms of martial arts that offer an intense workout. But practicing martial arts offers much more than just physical exercise. It requires dedication, hard work, practice, discipline, communication, respect, self-esteem, and leadership skills.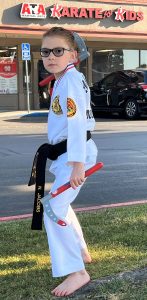 Modesto has many different types of martial arts studios. One that comes to mind is located across from my gym and is where my friend Nathan Jacobs belongs. Nathan has been studying Tae Kwon Do with Master Derwin Yee at Yee's Black Belt Academy since he was 5 years old. He's an amazing kid with a kind heart who would only use his martial arts talents in self-defense or to help others who can't defend themselves.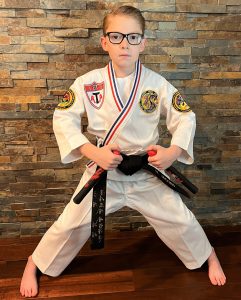 Nathan, who is now 10 years old, recently received his 1st-degree black belt in Songahm Taekwondo. However, what really caught my attention and impressed me the most, apart from his dedication and age, was one of Nathan's martial arts talents. He has mastered the nunchucks while doing the moonwalk, which has become his own famous and intimidating martial arts move. It takes a great deal of concentration to perform, and I'm sure it's one move that even Bruce Lee or Chuck Norris never mastered.
Honestly, if you ever face off against Nathan and he does his moonwalk while slinging the nunchucks, you'll know exactly what I'm talking about. He's so cute that instead of wanting to engage him in a competition fight, you'll just want to hug him and be his friend. Now that's what I call a defensive move with an awesome outcome that ends in friendship.

Regardless of the style of martial arts you or your children decide to practice, you will benefit from the discipline aspect as well as the extreme fitness side of it. You'll also be surrounded by a great group of people who are striving to live the healthiest lifestyle they can with what inspires them.
Yee's ATA  Black Belt Academy 2401 Orangeburg Ave, Suite 660, Modesto.
I answered the call back in 1983; mixing Music and Entertainment with an eccentric European style has always come easy for me. In the early 80's I was the Disc Jockey for most of the high school dances in Modesto. In the late 80's I found myself in Hollywood working as a dancer and sound engineer for various professional recording industries. In 1990 my wife of 25 years and I started (The Quake Mobile DJ ®) which was seeded from San Francisco's 1985, The Quake, radio station that only lasted a short while on the air. 26 years later The Quake Mobile DJ is bigger & better than ever in the Entertainment industry. Real-Estate, photojournalism, event promoter, saving animals, travel and fitness are a few other of my interests. I also enjoy motivational speaking to children and to those who are struggling with addiction. In my life, I have always been a very direct person and once I see a goal I won't quit till I've achieved it. But out of all of the above I feel in my heart that the best inspiration in my life is my wife and my love for the faith that I practice. Phil 4:20