SUPERGROUP SF
by Middagh Goodwin
David Victor's SUPERGROUP SF will be hitting the stage at the Gallo Center this Saturday and if you are in the audience you are in for a treat. When you hear "supergroup" what springs to mind. Well in the case of SUPERGROUP SF you would be correct, it's members have played with such notables as Boston(David Victor Gutar/Vox), Y&T(Brand Lang Bass/Vox), Lynch Mob(Mike Frowein Drums/Vox) and Jet Red(Lang/Frowein). Filling out the band is Eric Barnett(Points North Guitar/Vox) and Gabrielle Ray(Keyboards).
This show packs a punch with a powerhouse performance featuring the greatest rock 'n roll ever from the San Francisco music scene. David Victor is was very excited to talk about what he would be bringing with this new band, songs from the bay area that we all grew up on. "We will be playing hits from Jefferson Airplane, Journey, Train, Four Non Blondes and more." Expect to hear harmony heavy songs and stellar musicianship.
Tickets are available at the Gallo Center box office during regular hours or online at www.galloarts.org starting at just $29
Proceeds from autographed guitar auctions following each SUPERGROUP SF show go to support Harmony & Healing, a non-profit organization that brings acoustic music to patients in healthcare facilities to brighten spirits and speed healing.
More information at: https://davidvictorpresents.com
Harmony & Healing: https://harmonyandhealing.org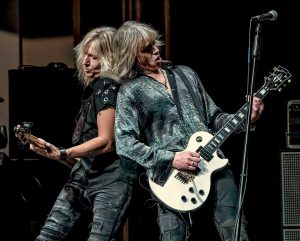 Middagh Goodwin LIVES Music. He has been booking and promoting Music, Art and Comedy for years in the Central Valley. He ran the award winning Plea for Peace Center in Stockton for 5 Years and has booked bands from A-Z. Middagh is beginning 2016 with a new position at the Gallo Center for the Arts and celebrating Beat Happy! Music's 30th Anniversary. Read the MAMAView every month and a the Needle Drop 52 Records 52 Weeks.