The Murphys 6th Annual Witch Walk: Eat, Drink & Be Wicked!
By Brandilyn Mitchell 
Calaveras County is a 90-ish minute drive northeast of Modesto and boasts some spectacular things to do and see, including being the home of the little gold-rush town of Murphys. You'll notice as you walk around enjoying the sights and sounds that Murphys looks as if "gothic" met "western" to create the Victorianesque town–but honestly, isn't that what "Victorian" is? The high collars, the lace, the cameo brooches, the finesse and elegance wrapped ever so gently with macabre: because the introduction of the camera brought with it a fascination for photos of the dead and an obsession with taxidermy. As if the aesthetic wasn't enticing enough for Murphys, "Calaveras" is Spanish for "skulls". So Murphys California is the perfect location for an annual Witch Walk. And oh, did we mention all the libations at your fingertips?! On Main Street alone there are 25 tasting rooms and a handful more within a radius of 5 miles. Honestly, you shouldn't be caught dead missing the 6th Annual Murphys Witch Walk.

From 11 am-8 pm on Saturday, October 15th, Main Street will be transformed into a *free and family-friendly* witchy maker's market. While the storefronts, restaurants and tasting rooms are your ultimate destinations, I guarantee you're going to complete all your Halloween (or for your traditionalists, Samhain), and maybe even your upcoming holiday shopping between your stops. The Murphys Witch Walk Wicked Goods Bizarre Bazaar features 40 vendors with booths at two locations, plus some of the stores are hosting their own pop-up shops, so I know you will find something for everyone from your niece to your Father-in-law, taking into account your niece and Father-in-law are Wednesday and Gomez Addams.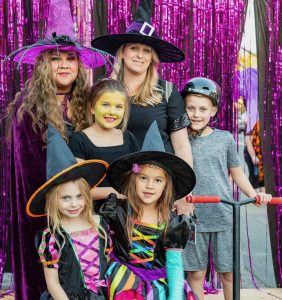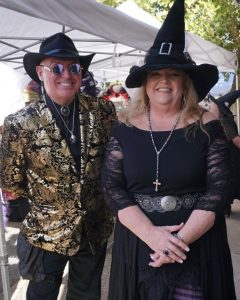 You are encouraged to dress up as your favorite witch or warlock (though no costume will be frowned upon, the point is to dress up and have fun!). With the release of Hocus Pocus 2, I expect to see quite a few groups of Sanderson sisters. Come dressed as your favorite Harry Potter or Lord of the Rings characters, or maybe as Willow from Buffy, Melisandre from Game of Thrones or Samantha Stephens from Bewitched. Get creative and make some memories! The costumes are fun for wearers and lookers alike and are also a big part of the great Witch Walk experience. 
The Murphys Witch Walk was founded in 2016 by Teresa Rodriguez, owner of the Potted Plum, located at 90 Big Trees Road at the corner of Main Street. Teresa learned about a successful witch-themed community costume party held in Livermore as a promotional endeavor to attract attention to local retailers, and she decided it would be worth hosting one to promote retailers that are 'off the beaten path of Main Street. Murphys Witch Walk was born to bring people to enjoy the unique shopping, wine tasting, entertainment, and dining Murphys has to offer. Christopher Buttner, a longtime entertainment and event marketing professional who's worked on major concert tours to internationally-known San Francisco costumed festivals, joined the ranks as Co-Owner/Creative and Marketing Director in 2020. The two were made to run this event together-they make it seem effortless and their talents have turned this event from dream to reality year after year. 
This year, the Murphys Witch Walk is pleased to announce their charity is the Ronald McDonald House Charities Northern California in fundraising efforts in honor of 9-year old Wyatt Walker of Murphys. "Super" Wyatt, as he has come to be known due to his resilience to adversity, was diagnosed in December 2021 with Medulloblastoma Brain Cancer, at which time he underwent emergency surgery to remove the tumor from his brain. Over these 10 months, Wyatt continues to receive ongoing treatment and RMHCNC has been integral in helping Wyatt and his family. As a Murphy resident, they hope to raise a lot of funds for RMHCNC as a way to give back. For a complete list of Murphys Main Street wineries visit https://murphyswitchwalk.com/wine-tasting. 

Here are the ones we think you'll especially enjoy that you must plan to stop at:

1. Lavender Ridge Vineyard Tasting Room-Come for the Vin Doux, Mourvedre, Rolle, Roussanne and stay for the Viognier! Simply divine!
2. Hovey Winery Tasting Room-The shaded garden here is truly magical. Sit back, relax with a glass of sparkling and you'll be transported to 1850, the year this historic house was built.
3. Black Sheep Winery- Shiraz, Merlot and Cinsault, oh my! Also offering their Port-style dessert wine, Fortissimo. I'm a sucker for dessert wines.

For food, you can't go wrong with either The Murphys Irish Pub (they're also a brewery that makes the delicious "Skulls and Clovers" beer) or The Murphys Pourhouse (which has excellent menu selections for your littles!) In Murphys, there's plenty of shade, plenty of space, and plenty of things to eat and drink, and I know they'll deliver a cackling-good time for your whole coven! By Jove, I think you should even make this your new Halloween tradition and stay the whole weekend! Why? Because there are events hosted the day after too, like the Columbia Kate's Witch Tea in Columbia State Park and the Indigeny Fall Fest in Sonora. If you attend, please post your photos and tag them #modestoview for a chance to be featured in next month's RearView! Sip on, friends!
Bring on the rain, and a bottle of Wonky & Wry's Honey Braggot Ale. Loves to roast marshmallows over a fire.