FitView: Double Play Fitness
By Efren Martinez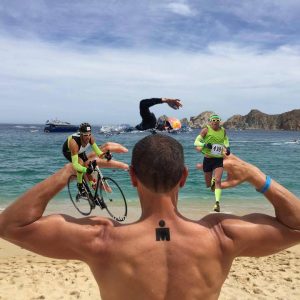 In October we get to enjoy some of the best weather all year long. For those who train all year outside, it's a much welcomed sight. October is close to April's weather when it comes to how pleasant the temperatures can be. I'd invite you to keep this in mind and think about doubling up on your fitness challenges. Now is a great opportunity to go that extra mile to help you achieve your goals.  They may be improving your overall health,  trying to lose weight, winning a race or just trying to improve your speed.

For many Tri-Athletes, double or even triple fitness days are the norm. We generally start out with an 8-13 mile run, followed by a 30-mile bike ride and top it off with a mile swim in the pool. During the summertime, this can only be done at the crack of dawn to avoid much of the heat that comes on so strong in the afternoon. This is why October's weather is so pleasant. You can actually sleep in a little longer and still, get your double or triple play fitness on in one day. It's really the best time for me and many like me who enjoy being outside in all aspects of our life.

Friends this October try and take advantage of the cooler weather and double up.  Maybe play a game of tennis or pickleball in the morning, go for a run or walk soon after. Your mind, body and persona will love it. One more keynote! Please always be mindful of your surroundings. It's best to remember that to stay safe out there we must stay clear of cars. In my mind, I always assume that every car out there can not see me so I make it a point to be seen. Cheers to your health!     

—
I answered the call back in 1983; mixing Music and Entertainment with an eccentric European style has always come easy for me. In the early 80's I was the Disc Jockey for most of the high school dances in Modesto. In the late 80's I found myself in Hollywood working as a dancer and sound engineer for various professional recording industries. In 1990 my wife of 25 years and I started (The Quake Mobile DJ ®) which was seeded from San Francisco's 1985, The Quake, radio station that only lasted a short while on the air. 26 years later The Quake Mobile DJ is bigger & better than ever in the Entertainment industry. Real-Estate, photojournalism, event promoter, saving animals, travel and fitness are a few other of my interests. I also enjoy motivational speaking to children and to those who are struggling with addiction. In my life, I have always been a very direct person and once I see a goal I won't quit till I've achieved it. But out of all of the above I feel in my heart that the best inspiration in my life is my wife and my love for the faith that I practice. Phil 4:20