Unplugged View: The Amtraker's Guide To The Gallery (Vol 3)
by Aaron Rowan
Time to wrap up this travelogue trilogy for now. I spent the better part of July playing tour manager + roadie, collecting memories and material for a future volume of The Amtraker's Guide, which probably means I'll spend the better part of August catching up on sleep and other trivial matters. Before I Rip Van Winkle it, here are some more highlights from my years riding the rails across America.

Sioux Falls, SD is among my favorite cities. The downtown area is heavily populated with stunning sculptures. Grab lunch at 22TEN Kitchen Cocktails, where elk ravioli is on the menu. The city's most beautiful feature is Falls Park, where the river winds through canyons of pink quartzite. Adjacent to the park is the Levitt amphitheatre, where a free summer concert series introduced me to the best new act I discovered last year: Chicago cabaret-blues-pop quartet The Claudettes. They're at the top of my wish list to bring to Modesto; until if and when that day comes, treat yourself to their music at www.theclaudettes.com.

Fort Worth, TX is an old favorite. I hadn't been back since before my career as a music presenter began, until I passed through to see some old friends this past winter. A sequence from cult classic 'Logan's Run' was filmed at the Fort Worth Water Gardens, a half waterfall, half whirlpool structure with steps spiralling down to the basin. Lonesome Dove Western Bistro, opened by an 'Iron Chef America'-winning challenger and where I once enjoyed the most expensive dinner of my life, is still going strong and serving treats like kangaroo nachos and rabbit-rattlesnake sausage. Recommended local music: Ginny Mac, who I met at a speakeasy show during my recent visit. Ginny puts her own twist on vintage jazz & western swing. Make the short hop over to Dallas while you're at it to catch a live set by Glitter (the artist formerly known as Glitter Rose), who once headlined my acoustic festival. She's won all kinds of awards for her songs & music videos in both country and rock categories.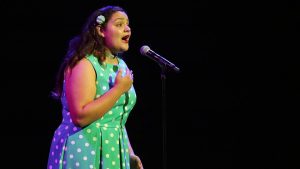 On the homefront: Valley Talent Project grand prize winner Kalea Jackson returns to my Young Artist series this month at The Dragonfly Art For Life. A performer in numerous Gallo Center musicals and other productions, Kalea is eager to lead another program of musical theatre and pop favorites, and likely a song or two on her ukulele. Friday, August 12 at 7:30 pm, 1210 J St., $10 at the door. Bring some extra cash in case Kalea's infectious creative energy moves you to paint during her show; there are rock and canvas options for an added price. And speaking of young artist alumni of my concerts, several of them appear in the cast of MPA's 'Seven Brides For Seven Brothers at the Gallo, five dates between August 13 and 21. Ought to be a fun show, grab your ticket at www.galloarts.org. Intimate performances. Infinite playlist. MODESTO UNPLUGGED. www.modestounplugged.com.
Middagh Goodwin LIVES Music. He has been booking and promoting Music, Art, and Comedy in the Central Valley for years. He ran the award-winning Plea for Peace Center in Stockton for 5 Years and has booked bands from A-Z. In addition, he is the managing editor of ModestoView and writes the MAMAView and GeekView. Middagh works with the Modesto Area Music Association and books Music in the Plaza. In addition, he owns and operates Graffiti-Con, where cars and pop culture intersects. More recently, Middagh has been working with the Graffiti USA Classic Car Museum, helping to create unique events that help raise funds and awareness of the museum and its mission. On top of that, you can tune into one of two shows that Middagh Goodwin hosts on KCBP 95.5 FM; This is SKA and MAMA Radio.