GeekView: Celebrating 10 Years of StocktonCon
By Middagh Goodwin

StocktonCon is celebrating 10 years of geeky fun at the Stockton Arena on August 13-14th 11 am-5 pm each day. Overwhelming fan support has helped StocktonCon move from a one-day event at the University of the Pacific in 2012, to one of the top pop culture events on the West Coast, bringing thousands of fans of comics, cosplay, sci-fi and fantasy to Stockton Arena each year.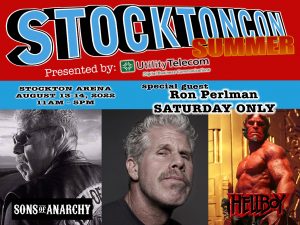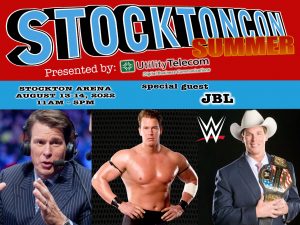 Every year Mike Millerick and his team bring some of the best guests in geekdom to Stockton and this year being the 10-year anniversary they have spared no expense. The announcement of their first guest Ron Pearlman(Hellboy, Sons of Anarchy, Blade II, Conan the Barbarian and voice acting in more animated series and video games than I have space for) got people excited once again for this event. Add to that Jon Harder(Napoleon Dynamite, Blades of Glory), Bary Bostwick(Rocky Horror Picture Show, Spin City), Karyn Parsons(Fresh Prince of Bel Air) and Ryan Hurst(Walking Dead, Sons of Anarchy). If that wasn't enough WWE Hall of Famers JBL and Mickie James will be at the show as well. But wait there's more, you can not have a comic con without creators the legendary Arthur Adams(Batman/Fantastic Four), Amy Chu(Rick and Morty/KISS/Wonder Woman), and Lee Kohse(Star Wars/Speed Racer) and many others. This is just a short list of the number of guests that will be available for autographs pictures and more.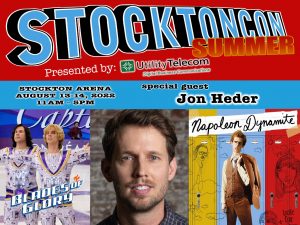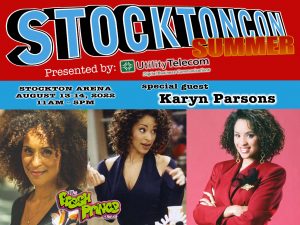 A large array of artists, exhibitors and special guests will once again be in attendance at StocktonCon. More than 200 exhibitors and artist booths will be a part of the fun – with fans in attendance able to find lost treasures, comic books, action figures, Funko pops and much more.

Tickets Prices!
Kids 12 and under – FREE (with paying adult)!
1 Day – $16 in Advance (online only) – $20 Day of Show (at the box office)
2 Day – $20 in Advance (online and in stores) – $30 Day of Show (at the box office)
Online purchases will add service fees and no fees for cash purchases at stores.
Modesto Comics, Invincible Comics and Cruisers in Modesto and Ceres.
Get StocktonCon ticket information here – http://stocktoncon.com/tickets-2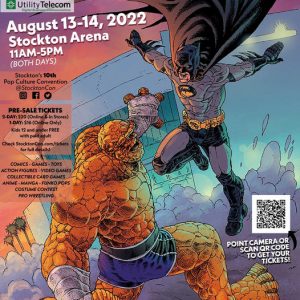 Middagh Goodwin LIVES Music. He has been booking and promoting Music, Art, and Comedy in the Central Valley for years. He ran the award-winning Plea for Peace Center in Stockton for 5 Years and has booked bands from A-Z. In addition, he is the managing editor of ModestoView and writes the MAMAView and GeekView. Middagh works with the Modesto Area Music Association and books Music in the Plaza. In addition, he owns and operates Graffiti-Con, where cars and pop culture intersects. More recently, Middagh has been working with the Graffiti USA Classic Car Museum, helping to create unique events that help raise funds and awareness of the museum and its mission. On top of that, you can tune into one of two shows that Middagh Goodwin hosts on KCBP 95.5 FM; This is SKA and MAMA Radio.