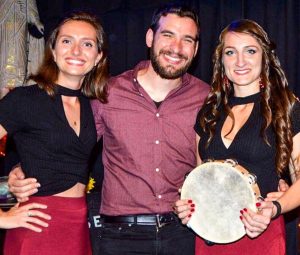 Unplugged View
by
Aaron Rowan
An Offering You Can't Refuse
I spent a month trying the keto diet over the Summer after a friend got me curious about it. High fat, no bread, no sugar. It works! But everything is upside down when you're on this diet. For instance, you have to take the gun and leave the cannoli. It's unnatural, I tell you.
Keto wasn't the only thing that left me longing for the culture of Italy in recent months. At my annual visit to one of my favorite acoustic festivals, I discovered an incredible new act called PizziCali. This quartet is a beautiful marriage of friendship and musicianship, combining guitar, percussion, strings & vocals into a lively and earthy sound. Spend an afternoon with them as they share their deep love for old rhythms and traditions from different regions of southern Italy. Sunday 11/18 at 3 PM, Moon & Sixpence Music And Art House, 500 9th St. between E & F, $20.
Another fine concert this month also features music from The Boot. At Sunday Afternoons At CBS, tenor Chris Pucci will be performing a selection of opera classics and pop standards in a program reminiscent of Andrea Bocelli. Chris has performed at Carnegie Hall and even received a bit of mentorship from Pavarotti while studying music. 11/4 at 3 PM, 1705 Sherwood Ave., $25/$20/$10.
Bruce Guynn & Big Rain appear at Moon & Sixpence on Sunday the 11th. Their music has been on radio charts throughout the U.S., Europe and Australia. Their live set effortlessly flows from up-tempo dance songs to heartfelt ballads to improvisation. Bluesy Americana songwriter Bethany Saint-Smith will give an opening set. She's just released a book of poetry and might even give a reading or two as well. 3 PM, $15.
The State Theatre hosts two screenings of a fascinating music documentary, Landfillharmonic, on Thursday the 15th. The film follows the adventures of a student orchestra from Paraguay who play instruments built from recycled garbage. I saw a few of these instruments up close when I visited the Musical Instrument Museum in Phoenix. Showings are 10:30 am and 6:00 pm, free to the public.
And we'll end this month at Moon & Sixpence on Sunday 11/25 with Briget Boyle, performing work from her recent solo album. Briget comes from a background singing traditional East European folk music with several different ensembles, but her solo career is built on genre-bending Americana. The show starts at 3 PM, $10 at the door. Up close and intimate is the greatest way to experience live music, so be sure to visit www.modestounplugged.com to stay up to date on all Modesto Unplugged has to offer!