Unplugged View: Song Of The Southpaw
by Aaron Rowan
David Finley does much of his best songwriting from behind the wheel, whether on an interstate highway or a back road somewhere. His musical journey has taken him from singing gospel at family gatherings in Arkansas from an early age to a tenure as a performing songwriter in Nashville, to leading one of Modesto's most exciting original music party bands. David performs mostly as a vocalist but is also, as I discovered just a few weeks ago, a handy left-handed guitarist. He's got quite a passion for entertaining but also for supporting and promoting other talent and has become an esteemed member of the Modesto Unplugged collective.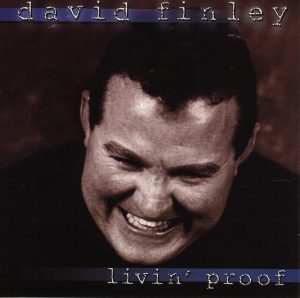 In the mid-1990s, David's family encouraged him to try his luck in Nashville. At first, he visited for a week and greatly enjoyed his time there, even getting to meet with Mark Cash (Johnny's nephew) who offered further encouragement. During an audition there in 1996, David was discovered by Marcus Tremper, an A&R agent with the Opryland Music Group. The two began writing together, and in 1999, Tremper produced David's debut album 'Livin' Proof.' They remain close friends to this day. David recounts many magical evenings performing in Printers Alley during his Nashville years, even serenading the likes of Mark Chesnutt from directly across the bar when he wandered into a show one night.

David tends to full forming a song in his head before committing anything to paper. One track from his album, 'All I Got For Christmas Was The Blues' – from an idea presented to him by Marcus – came together while driving from one side of Nashville to the other. He proceeded to sing it for the entire 5-1/2 hour drive to Arkansas to visit family, no music on the radio, no distraction from the melody. And immediately after greeting his family members, he ran to grab a pen and paper.

David hasn't slowed down since relocating to Modesto in 2004. His current band True South can sometimes be found rocking The Dragonfly Art For Life, House of Beef in Oakdale, Stockton's Asparagus Festival, or the Brickyard in Roseville, among many venues around California. Their range runs from country to southern rock to blues to an Irish-inspired song David composed for his daughter when she was born. David's vision for the group is to progress to a national- and then global-touring act, continuing to build on his love for pure entertainment. "I would rather live with the music in my head than not," he says.

Intimate performances. Infinite playlist. MODESTO UNPLUGGED. www.modestounplugged.com.