Unplugged View: Thus Spoke Alzara, Thus, Art
By Aaron Rowan
Among the hundreds of gifted song crafters to pass through Modesto to appear at my listening-concert series, there is one with whom I have forged a particularly beautiful friendship. Alzara Getz belongs to a musical lineage that includes her father Dave Getz, who once kept the beat as the drummer in Janis Joplin's band Big Brother & The Holding Company. Alzara writes her own music and plays a sleek-looking triangular ukulele called a Fluke. She's sung with various groups over the years, but today she fronts orchestral-folk ensemble Brother Spellbinder. One of the most richly textured acts I've worked with, the group borrows elements of folk, rock, classical, and eastern European styles, creating well-crafted songs with old-world ache and modern angst.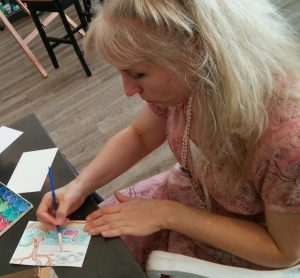 The band comes with a rotating string section and plenty of unique instruments, including a couple of different trinkets Alzara has even let me sit in and play at some of their live shows. There's often a cool visual component to their set, with a projected backdrop of vintage burlesque dance; and Alzara makes vintage-style postcards featuring snippets of her song lyrics. Also, she sings in Russian on a few songs, which I adore.
Beyond the band, Alzara has earned accolades from the West Coast Songwriters Competition and was an official Modesto Unplugged-sponsored artist to attend the Yosemite Songwriting Retreat which features some of California's finest folk songwriters as mentors. She is also the curator of the Uke-Nique showcase series at venues around the Bay Area.

In addition to Alzara & friends' appearances on my stages, they have performed at the DOMO evening market in the 10th St. Plaza and appeared on our local KCBP Community Radio. Offstage, Alzara is the perfect companion to venture out with to enjoy a big concert, or maybe just to eat borscht or Burmese with. You can sample her & Brother Spellbinder's music at brotherspellbinder.bandcamp.com. I also recommend their NPR Tiny Desk Contest submission videos on YouTube: 'Speed Of Sound,' 'Birds Of A Feather,' and '20 Years Ago.' Keep a watch for this California cultural treasure's next visit to Modesto.

Next month, we'll meet another of Modesto Unplugged's greatest hits who you ought to add to your playlist. Looking forward to returning to live music full speed, I do hope before the next solstice. Have a fun and fulfilling 2021!

Intimate performances. Infinite playlist. MODESTO UNPLUGGED. www.modestounplugged.com