Unplugged View: Who's Got Modesto's G.O.A.T.?
by Aaron Rowan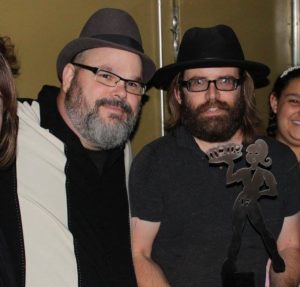 The 23rd Modesto Area Music Awards were recently held. It's always nice to see some artists from my own series go home with prizes. But something is missing from MAMA – has been for a while now – and we need to talk about it. The awards recognize local musicians in a wide range of genres; annual events; venues; DJs, and even comedians…..but the category that once honored those who actually bring live music to town vanished without a trace years ago. I was the penultimate winner of the Best Live Music Promoter statue in 2017, but by 2019 the award was retired despite a host of superb musical programmers hosting supremely cool things on our music scene. This makes as much sense as an Academy Awards show with no 'Best Director' category. While I don't go back quite as far as the founding of our city, my suspicion is that its Greatest Of All Time is hiding in plain sight among the musical movers active today. So let us take a moment to acknowledge a few of the visionary presenters making Modesto a more interesting place.
       
John Griswold of Red Tie Arts is someone I very much enjoy supporting and collaborating with. He's got a world music series in the fall/winter season that features an assortment of Latin flavors, along with Celtic, jazz, and a few other treats.
       
Greg Edwards (Off The Air) is currently the top source of indie rock in town, along with singer-songwriter and other flavors. He's back in action after several years' hiatus following his migration to the Bay. Greg hosted fantastic lineups at Cafe Deva around the time I first started out as a presenter, a few of which I was quick to poach talent from.
       
Tina Driskill offered quite the diverse mix when she was head of programming at Sunday Afternoons At CBS: gypsy jazz, Argentine tango, Americana, opera, Celtic, and zydeco. With Tina at the helm, this quickly became my favorite local series to support.
       
And now we come to my personal vote for G.O.A.T. – a powerhouse curating the highest form of musical expression. It's the marvelous Opera Modesto, currently led by creative power couple Roy Stevens & Annalisa Winberg. The music of their full operas is heavenly beyond anything else I've heard on a stage. Smaller recitals are held throughout the year. A multilingual vocal revue takes place every December, in partnership with my own series – arguably the most fun small showcase either of us puts on. Their Summer Opera Institute builds up the next generation of opera talent. And their Story Into Song program, transforming classic books into opera experiences, has produced some of their most memorable creations. I'm plenty proud of the talent I've wrangled, and the standing ovations I've seen at my series, but whenever I settle in for an Opera Modesto experience, I'm reminded anew why they are a full octave above the rest.

You can support some of these boss-level curators, and others like them, at these hot November concerts:
Friday 11/3 – Portuguese fado star Ramana Vieira @ the State Theatre, 8 pm, $20-$40.
Sunday 11/12 – Opera Modesto's 'Basso Bravado!' with Nathan Stark & John Ames @ Mistlin Gallery, 2 pm, $20-$50.
Saturday 11/25 – Red Tie Arts presents Tempest (Celtic rock) @ Papapolloni Bistro, 7:30 pm, $38-$48.

Intimate performances. Infinite playlist. MODESTO UNPLUGGED. www.modestounplugged.com.