GoModesto: SKAbilly Rebels are Special
Roddy Radiation guitarist for one of the most Iconic bands from the late 70s early 80s The Specials is kicking off his West Coast Tour at Rancho Fresco Cantina in Downtown Modesto on November 16th. Performing originals and songs he wrote for the Specials like "Rat Race," "Hey Little Rich Girl," "Concrete Jungle," and "Gangsters" mixing in a fair dose of Rockabilly to his 2Tone inspired SKA. From Fresno, Belmont Sound System will be performing some Boss Reggae and Rocksteady, and 1335 bring their mix of SkaPunk, and opening up the show is Modesto's own The Bracers. Spinning vinyl between bands will be This is SKA(and ModestoView) own Middagh Goodwin and Selector Dave Bracer Central Valley Reggae & Soul Club. Nov 16th, 6 pm  $20 adv $30 door 21+ http://Purplepass.com/roddy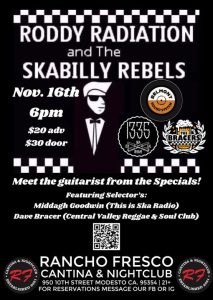 Middagh Goodwin LIVES Music. He has been booking and promoting Music, Art, and Comedy in the Central Valley for years. He ran the award-winning Plea for Peace Center in Stockton for 5 Years and has booked bands from A-Z. In addition, he is the managing editor of ModestoView and writes the MAMAView and GeekView. Middagh works with the Modesto Area Music Association and books Music in the Plaza. In addition, he owns and operates Graffiti-Con, where cars and pop culture intersects. More recently, Middagh has been working with the Graffiti USA Classic Car Museum, helping to create unique events that help raise funds and awareness of the museum and its mission. On top of that, you can tune into one of two shows that Middagh Goodwin hosts on KCBP 95.5 FM; This is SKA and MAMA Radio.