Track 424: Keeping it Simple
By Brandilyn Mitchell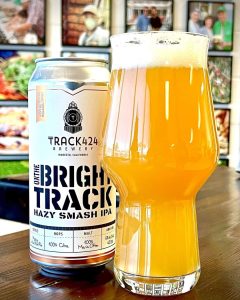 I wasn't expecting to be blown away when I parked my car in the Sciabica's parking lot, mentally preparing myself for a BrewView interview. In fact, I wasn't even sure I was in the right place. When I walked into the gift shop and saw dozens of flavors of olive oil, I thought, "Oh this is such a fun little gift shop!" As I was looking around, I saw a fridge packed to the brim with Track 424 canned beer, next to a merch rack and a small kegerator with 3 taps. I asked the cashier if this was the tasting room. "Oh no! That's through there," she answered, pointing to a pair of closed doors. Ah, what surprises await me on the other side of those doors?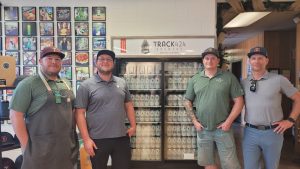 It wasn't long before I was introduced to the Track 424 BrewCrew. In the order I met them: Craig Hilliker, Bob Proffitt, Andrew Sciabica, and Jonathan Sciabica. Craig is a certified Master Sensory Analyst of Olive Oil and has been with Sciabica for nearly 8 years. Bob earned his BS in Nutrition before earning a second BS in Fermentation Science. His journey started at Dogfish Head Brewery and then with Samuel Adams. He comes to the team with tons of nuanced knowledge. Andrew, a 5th generation olive oil producer, grew up in the family business, but found that he could leverage his culinary training with the Track 424 project – already planning an Oktoberfest food pairing experience (with Bauhaus) on September 22nd. And Jonathan? He's the CEO of Sciabica's Olive Oil who happens to be a craft beer enthusiast and brewer as well. Jonathan and Craig bonded over their love of craft beer and had a crazy idea: to start a brewery! 
"As beer lovers, we began with a mission to bring to the world of brewing the same artisan approach we use for olive oil: work backwards from a desired flavor profile to select the right methods and best ingredients to craft flavor that is pure pleasure for your taste buds." The family says. The best way to do that? Making so many SMASH brews (aka single-malt and single-hop beers), that they can't even count them all. Brewing such "simple beers" allowed them to truly taste each individual ingredient and nail down how every little tweak in the recipe changed the end product. Jonathan explains, "From inception, we wanted to obsess about the beer process from fermentation to temperature, to PH and carbonation to create the perfect beer every time. By focusing on a small number of craft brews, we have the opportunity and time to review every batch meticulously. Keeping it simple and building on those recipes allows us to obsess over every little detail." 
Their Research and Development whiteboard was incredible to look at-when I say these brewers really study, dissect and hone every ingredient, I mean it. They started brewing on a Grainfather system. To this day, they will start recipe development on the Grainfather and tweak it until it's perfect. Then they'll scale up for production in the larger SS Brewtech Brewhouse. "Water really sets us apart in the industry. We only use the well water from the Sciabica property. We send it off periodically to be tested and then we balance the minerals and Ph to be exactly what we want depending on the style we are brewing." said Bob. I was able to sample both the On The Bright Track and the Imperial Stout on the tour. They are both solid beers I would drink again and again. 
The beer that got them into beer? No surprises in their choices: Bob's gateway beer was at first Pabst Blue Ribbon, then he graduated to Odell Brewing's IPA. What got him into brewing was his roommate in college always bringing his dad's homebrew back to share. Craig's was hard cider, and he started to make his own with Apple Hill apples. He would juice them himself for his cider. Now THAT is dedication! Jonathan's is the delicious and well-known Sierra Nevada Pale Ale. Andrew is the odd man out with not just one beer getting him into the hobby, but having an introductory craft beer tasting on his 21st birthday and his taste buds exploding from happiness. He was hooked.
Track 424 comes from the name of the rail line right outside their facility that is still in use today. They are planning something fun every time a train goes by the brewery, and although I won't ruin the surprise by sharing their ideas, I do promise that whichever idea they choose will add to the worth a taproom excursion! 
When they started over a year ago, it was with pre-sales of On The Bright Track IPA in cans. Now the taproom is open! An incredible dream became a reality! What's coming down the pipe? "We really want to do 'Education of Beer' flight nights, like a Beer 101 class, where it's similar to a wine or olive oil tasting. Talking about every ingredient, it's importance in the process, how different styles came about, and the general history of beer." Jonathan answered excitedly. It is easy to see his enthusiasm for flavorful beers. They're keeping it simple with 3 flagships: a Pilsner, a Hazy IPA, and a West Coast IPA with quarterly seasonals like a fest beer (think Oktoberfest or Marzen), Imperial Stout, and a Hefeweizen. As if that weren't enough, they are soon planting their own hops, Cashmere and Cascade, to wet-hop some styles in the future. They also see some "hopyard parties" in the works in their hopyard at the Sciabica farm.
If you attended the grand opening on August 26th, post and hashtag your photos on your socials with #modestoview! Stay up to date with their hours and special events on their Facebook. Sip on, friends! 
UPCOMING TRACK424 EVENTS:
September 22nd, 2023: Oktoberfest Beer & Food Pairing – Ticket Required: Track424.events
October 5th, 2023: Taproom officially opens to the public Thursday, Friday, and Saturdays
Track 424 Brewery 2150 Yosemite Blvd Modesto, California
(209) 577-5067 
Bring on the rain, and a bottle of Wonky & Wry's Honey Braggot Ale. Loves to roast marshmallows over a fire.