Beating the Heat
By Eric Benson
I turned 66 in August, another trip around the sun and all is well. The body is still functioning with no spare parts, my health is good, my work is good, and my mental health well still a high-functioning sociopath but hey I'm a musician. Trying to work less play more and keep the music flowing. We are down two venues for the music Ralston's Goat and Chefs of New York, but we hope things will improve over time in our downtown. At least COVID seems to be on the down low, knocking on wood loudly. Please come out and support the scene when you can folks.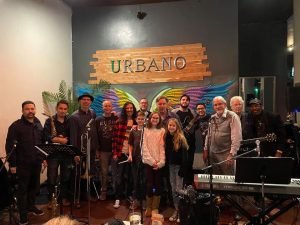 My peeps, the Blue Monday Jam needs you! A lot of us during the pandemic found other things to do at home and have stayed there. We need our fans to come down and keep it rolling. We host Blue Monday, September 14th and 25th at Urbano Bistro with great food, a full bar, and a swinging Band with special guests each month. In the Band: John Ady and Conrad Johnson on Bass, John Burt on Sax, Cortez Flores and Dave Hawks on Drums, and Eric Benson on Keys. We play Jazz, Funk, Latin, R]ock, and the Blues, not necessarily in that order for listening and dancing. So please be like Alpha Beta and tell a friend. We thank Chris Murphy and Gary Nelson for giving their love to support the Blue Monday Scene which yours truly appreciates! Urbano also has DJ dancing Tuesday through Sunday featuring Latin-based music. The Creole Jazz Kings continue to play Urbano and will be back this month so swing by.
Plenty to do in downtown, Music in the Plaza on Friday nights, the farmers market, and now we can be legit with cruising so come on out with your slow-riding.
Some great shows at Gallo Center but also check out these great venues out of town: The Newman Theatre, Yoshi's Oakland's best jazz shows, Khumba Music Center Santa Cruz and Piedmont Piano Company, the Back Door and the Sound Room located in Oakland. Please continue to come out folks as we can't do it without you.