Friends in Fitness
By Efren Martinez
As many of you may know, I've always had a fully equipped "nightclub-style" home gym. What else would you expect from your DJ in Fitness? So when COVID hit, it worked out okay since my gym, Planet Fitness, had to close its doors like so many other businesses. Still, I never let my membership expire, as The Terminator said, "I'll Be Back." Just recently, I returned to Planet Fitness and did not know what to expect. Some things were different from remodeled, and so many things stayed the same. The one thing, in particular, I noticed first is that I missed being around so many positive, healthy people. Just being around them makes me feel great. A teacher once told me, "Show me your friends, and I'll show you your future." Not only is this the type of environment I prefer, but these are the kind of friends I'm privileged to have. Everyone there is friendly as well as courteous, especially the hardworking staff at Planet Fitness. No matter what kind of day you might be having, you can be sure that they will always greet you with a welcoming smile and a "have a great day" as you leave, especially from one of the owners, Brian Cassagio. I've known Brian for quite a few years. Even though I hadn't seen him in a couple of years, he treated me like a true friend. I got to thinking about Brian and what makes him be a kind and awesome person, so I decided to interview him. On another note, if you see me at the gym and I don't say hi right away, it's not that I'm being rude. I just can't recognize you from a distance without my specs or hear you since I'm not only in a focused zone but I have my earphones on. So hey, hello friend!
MV-What inspired you to get into this line of work?
BC-I have always worked in customer service and leadership. Going into the fitness industry allowed me to take my passion to help people add a little bit of fitness to their lives, at their pace, while teaching great customer service staff to be leaders of themselves and others.

MV-How long have you been the owner or even co-owner of the Planet Fitness franchise?
BC-I have been part of the ownership team for ten years in the Modesto market, but I have worked with the company on both the east and west coast since 2009.

MV-How often do you exercise personally?
BC-I have found that as my children have gotten older (elementary to high school-aged), my in-club workouts have decreased, but my out-of-club workouts have increased. I coach my daughter's soccer teams. I am a coach for the Learn to Play Hockey at Modesto on Ice. I try to run with my son as often as I can, and I still play different sports in adult leagues. It is nice to know that the gym is available, but right now, having fitness experiences with my family and friends has become an important stress reliever in my life.

MV-What's your favorite form of fitness?
BC-I have to have constant motion while working out. Combining cardio with strength keeps my mind and body engaged. I also love competition, so sports of all types really appeal to me.

MV-What's the thermostat set at PF in the summer and in the winter?
BC-We heat the facility to 64 and cool it to 70 degrees. There will always be some fluctuation with the number of people in the facility and the outside temperature, but our Big Ass Fans (Trademark) help to circulate the air flowing in the facility.

MV-Are all Planet Fitness gyms open 24-7?
BC-The locations in Modesto, Stockton, Manteca, and Ceres are all 24/7 locations. Planet Fitness runs two schedules overall, 24/7 or 24/5. Our company believes that we should be ready to be there for our members when they are ready to come. Not having to worry if your gym will be open on time for the day is important to us. We want to break as many barriers as possible down to adding fitness to your life.
What motivates me the most is the way the community has adopted us. There is a lot of room for each fitness concept, and the more people can add fitness to their life, the better we all are as a community. Operating a great gym has allowed us as a company to give back to our community. When we change out our fitness machines (every five years for the cardio machines and every seven years for the strength machines), we can donate the used equipment to schools, fire stations, the Boys and Girls Clubs, and other community partners. Knowing that we are doing right by the community that gives all of us so much joy is what keeps us moving forward.

MV-What's the general turnaround time for a fix of any given fitness machine that becomes temporarily "out of order"?
BC-We have an in-house maintenance team that can identify issues and repair items as they come up. We keep a store of common parts that break down the quickest. In general, when parts are available, our downtime on equipment is less than 72 hours. Having said that, we have experienced challenges over the past year with our equipment vendors' supply chain. There was a point in the last 12 months when we experienced a parts backlog of 4-6 months. We were just as upset as our members were. The good news is that the supply chain has improved, and we are much closer to the 72 hours than we were this time last year.

MV-What inspirational/message would you like to share with our club members & our community?
BC-Adding fitness to your life is a personal journey. Celebrate the wins, big or small. No one joins a fitness facility and lifts 100 lbs on day 1. Just finding the fitness program or place that works for you is a win. We would be honored if you gave us a look, but we celebrate your journey no matter where it takes you.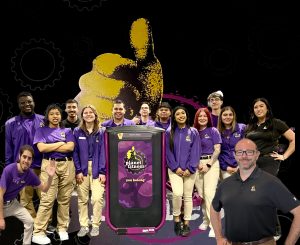 Planet Fitness Staff Photo.
Co-Owner Brian Cassagio
Jazmin Tellez
Israel Anaya
Kaitlynn Kubala
Ariel Andrade
Julie Youseff
Alex Candelaria
Natalia Alvarado
John Mendoza
Shawn Chavez
Joslin Isla 
Angel Ramirez
InterView Brain Cassagio
I answered the call back in 1983; mixing Music and Entertainment with an eccentric European style has always come easy for me. In the early 80's I was the Disc Jockey for most of the high school dances in Modesto. In the late 80's I found myself in Hollywood working as a dancer and sound engineer for various professional recording industries. In 1990 my wife of 25 years and I started (The Quake Mobile DJ ®) which was seeded from San Francisco's 1985, The Quake, radio station that only lasted a short while on the air. 26 years later The Quake Mobile DJ is bigger & better than ever in the Entertainment industry. Real-Estate, photojournalism, event promoter, saving animals, travel and fitness are a few other of my interests. I also enjoy motivational speaking to children and to those who are struggling with addiction. In my life, I have always been a very direct person and once I see a goal I won't quit till I've achieved it. But out of all of the above I feel in my heart that the best inspiration in my life is my wife and my love for the faith that I practice. Phil 4:20