GoModesto: Max Ska n P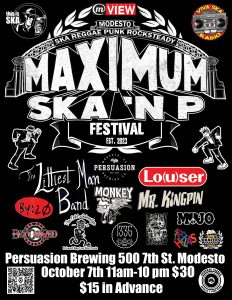 This is SKA and Viva Ska Radio present Maximum Ska n' P at Persuasion Brewing, 500 7th Street, Modesto on October 7th. Headlining the event will be The Littlest Man Band featuring Scott Klopenstien and Tavis Werts(Reel Big Fish), Vincent Walker(Suburban Legends), and members of the Scholars. Also on the bill is Chris Graue aka Louser(well known for producing some of your favorite Ska and Punk videos), Mr. Kingpin(Jump Up artists from Texas), Monkey(Asian Man Records), Before Twenty(members of Tiffany Rose & the Outlaw Hearts/Thought Riot), Bet On Red(Idaho), Mojo Reggae(Nevada), The Odd Advantage, Rundown Kreeps, 1335, The Hellas, and The Bracers. Throw in some guest DJs, Jr Ska Boss and Selecta Scream from Las Vegas, Selecta Dave Bracer, and This is SKA's own Middagh Goodwin spinning vinyl all day between the bands.
Tickets are $15 in advance from
Eventbrite
and $30 at the gate which opens at 10 am. 
Middagh Goodwin LIVES Music. He has been booking and promoting Music, Art, and Comedy in the Central Valley for years. He ran the award-winning Plea for Peace Center in Stockton for 5 Years and has booked bands from A-Z. In addition, he is the managing editor of ModestoView and writes the MAMAView and GeekView. Middagh works with the Modesto Area Music Association and books Music in the Plaza. In addition, he owns and operates Graffiti-Con, where cars and pop culture intersects. More recently, Middagh has been working with the Graffiti USA Classic Car Museum, helping to create unique events that help raise funds and awareness of the museum and its mission. On top of that, you can tune into one of two shows that Middagh Goodwin hosts on KCBP 95.5 FM; This is SKA and MAMA Radio.