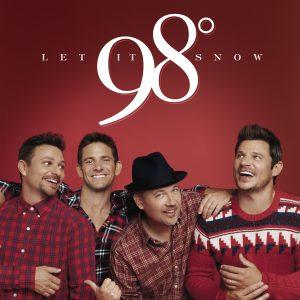 98° InterView
By Efren Martinez
In five short years from 1997 to 2002, 98° sold a staggering 10 million records, scored a chart-topping single, "Thank God I Found You," with Mariah Carey and Joe, and collaborated with their collective idol, Stevie Wonder, on "True to Your Heart," for the 1998 animated Disney film, Mulan. Their four-million-selling album, 98° AND RISING (1998, Motown), spawned the Top Five favorites "Because of You," "I Do," and "The Hardest Thing," while 2000's REVELATION (Universal Records), which sold two million copies, peaked at #2 on the Billboard 200 and yielded a trio of hits, "Give Me Just One Night (Una Noche)," "My Everything" and "The Way You Want Me To."
Just recently I spoke with Justin Jeffre. Our conversation was enjoyable, and he was very excited to be able to talk to their fans through this interview. The band may have aged along with all of us over the last 21 years, but they've grown in phenomenally positive ways with each other as well as how they perform on stage.
MV: What's the experience been being back on stage for this tour in compared to others tours?
Justin: It's a great experience to be able to come back after 20 years and still be able to do what we love to do, I think we all believe that we're better at it now, we have more experience as performers, singers, we get along better and we're having more fun than we've ever had in the past. So, we feel very fortunate to be in this position to have the best fans in the world that keep showing up, and I keep saying it, as long as they keep showing up, we're going come out and do what we love to do. The fans do give us so much energy and joy, and it's a pleasure, we are grateful for the opportunity to be able to perform for them.
MV: 21 years later, what's the most noticeable difference in 98° style of performing since "Invisible Man" in 1997?
Justin: I think it has to be that we take ourselves less serious now than how we use to be back then, our shows are a little more theatrical with dance moves than your typical Pop concert, so it's a bit different show than we've done in the past. We also don't have to think about things such as counting the beats that much anymore since we've been doing this for such a long time so it's in your body, and it just comes naturally so you just do it and the reaction is just fantastic from our fans.
MV: As a 98° whole, what would be the song that is the most fun to perform for you all on stage?
Justin: The hits are always fun because of the reaction from the fans, it's incredible knowing that our hit songs are taking them back to a nostalgic time in their life as we perform them. But I also think for us as 98°, this Christmas Show is fun because we can do some Christmas songs that aren't on either one of our Christmas albums because we wanted to give our fans a new experience from last year's Christmas tour. Last year's show was a great deal of fun, and we did a lot of stuff from our Christmas album, but we figured out that throwing in a few surprises for this Christmas tour is exciting for them and it keeps it fresh for us.
MV: Ok thanks,.. so what would be the 98° "most fun song" to perform on stage?
Justin: LOL Sorry, I got sidetracked Efren; I think that would be "The hardest thing." That song took us all by surprise because we weren't sure we were going to record it, after some thought, we decided to do it which followed by the positive reaction we got from radio and everybody also that was yes, of course, 98° needs to record it.
MV: What's the most heartfelt song that you enjoy performing?
Justin: Yes, I think that would be "I do" because that's a song that's been a big part of a lot of peoples lives. Many of our fans have got engaged to this song at our shows; it's has been used at peoples weddings and seems to be a song that means a great deal to a lot of people including ourselves because of that reason. It's just a very touching heartfelt song.
MV: What kind of stage experience can your fans expect as a whole?
Justin: Well' we're definitely going to bring all the classic 98° hits, and of course it's a Christmas tour so a great deal of Christmas music from our "Let It Snow" album. We also like to get a little silly and have some fun with each other and our fans during the show. In this point in our careers, we get to be more of ourselves and like to joke around, like a lot. We will also be sharing some classic Christmas songs we grew up with that you won't hear us singing other than at our Shows. These songs have some Motown feel and will have the same great feeling as when some of the greatest Motown Artist did when they performed them. The night will be filled with plenty of Christmas music surprises.
MV: On November 15th we'll be looking forward to seeing you at the Gallo Center of the Arts in Modesto. How long could your guests expect you to perform on stage?
Justin: It's right around a 90-minute performance, not including the intermission but it has been known to go a bit longer when we are long-winded and just to have a great time with everyone.
MV: What kind of personal message would you like to share with our readers who will be attending your show at our Gallo Center?
Justin: I'd would like to say that we are very thankful that we are still able to do this, it's a fun show and we'd also like to encourage everyone to follow your dreams as we have. I mean, who could have guessed we'd be signed to Motown and still doing this 20 years later and having more fun than we've ever had. Looking forward to seeing all of you all at The Gallo Center for the Arts on November 15th for the 98° AT CHRISTMAS show.
Tickets Here! https://tickets.galloarts.org/single/EventDetail.aspx?p=7101
Efren Martinez
Media
Band Members
Nick Lachey
Jeff Timmons
Drew Lachey
Justin Jeffre
https://www.facebook.com/Official98degrees/
Buy 'Let It Snow' Album Out Now
Tour trailer
Follow 98° on their website and any of their social media pages: Website | iTunes | Spotify | Facebook | Twitter | Instagram
I answered the call back in 1983; mixing Music and Entertainment with an eccentric European style has always come easy for me. In the early 80's I was the Disc Jockey for most of the high school dances in Modesto. In the late 80's I found myself in Hollywood working as a dancer and sound engineer for various professional recording industries. In 1990 my wife of 25 years and I started (The Quake Mobile DJ ®) which was seeded from San Francisco's 1985, The Quake, radio station that only lasted a short while on the air. 26 years later The Quake Mobile DJ is bigger & better than ever in the Entertainment industry. Real-Estate, photojournalism, event promoter, saving animals, travel and fitness are a few other of my interests. I also enjoy motivational speaking to children and to those who are struggling with addiction. In my life, I have always been a very direct person and once I see a goal I won't quit till I've achieved it. But out of all of the above I feel in my heart that the best inspiration in my life is my wife and my love for the faith that I practice. Phil 4:20