PLAY BALL!
By MJ Mangano
"Take me out to the Ballgame" Many of us get excited when April comes around, but not only for the beautiful weather, but the start of Baseball season. Already the A's and Giants have shown up to spring training back in February and plans are to start the season in April. No More fan cutouts! The A's and Giants have spent much of the offseason developing plans to safely welcome fans back to the parks in 2021 later in the season.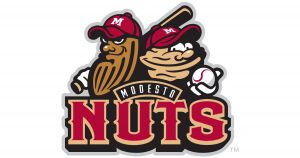 As far as the Nuts this year, last week the Mariners acquired 100% of the team's franchise, taking over for HWS Baseball, which had owned the Nuts since 2005. They will be playing at John Thurman Field this year in a division now called "Low-A West"; The Modesto Nuts are opening the season at home against the Stockton Ports on May 4. Go Nuts.
Now we are in the red tier more sport will be taking place; high school baseball has issues there is scheduling and Covid 19 restriction; best to check the high schools for more info. Modesto now is allowing youth and adult sports leagues to resume play at city parks based on updated COVID-19 restrictions. The City of Modesto is now accepting reservations for the following fields Beyer Community Park softball fields, Davis Community Park hardball and softball fields. As of now, places like Rainbow field are open just for team conditioning, but they believe they should open in April for softball leagues. More parks are planning on opening, so you should contact the Parks, Recreation and Neighborhoods Department, at 209-577-5344 for more info. "So yeah grab me some peanuts and crackerjacks (and a beer or two) and let me root for the home team!
For more info http://ow.ly/f8bS50EaxxX