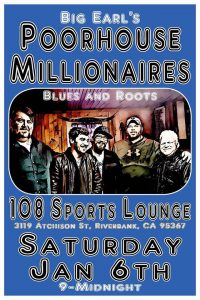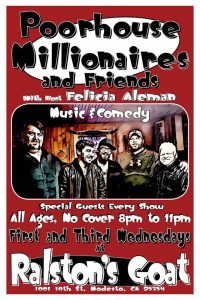 BluesView
By Earl Matthews
Happy new year folks. I don't know about you but I plan on having some fun and trying some new things this year. One thing I won't change is my love of live music, so on that not let's see whats going on in the blues. In the first week of 2018, Poorhouse Millionaires have 2 shows. On the 3rd we will be at Ralston's Goat and on the 6th we will be at the 108 Sports Lounge,
Week 2 Starts off with Poorhouse Duo at Bauhaus on Tuesday and you can find Rob Hill Band at the Barkin' Dog on Saturday the 13th with a few other acts you won't want to miss either.
Rounding 3rd we have Poorhouse Millionaires back at Ralston's Goat for Wednesday night. That Friday the 19th you can catch Jeramy Norris and the Dangerous Mood at Valley Brew in Stockton. If you haven't seen Jeramy this is a great opportunity to catch him in a great room.
Now on the 20th, you have a few options, you can catch Tony and the Tuff Times over at Barkin' Dog. You could head up to Moke Hill and catch Jeramy Norris and the Dangerous Mood at Hotel Ledger, or you can join me up in Sonora to check out Cole Hinkle, Mattea Overstreet and the Poorhouse Millionaires. One last chance to catch me on the 23rd with my main man Ray Vazira at Bauhaus, 6 pm.
January is normally a bit of a slow music month but, I did my best to give you some cool options. Enjoy the new year, and I hope to see you out at a show.
Jan 2018
3rd Poorhouse Millionaires and Friends at Ralston's Goat 8 pm
6th Poorhouse Millionaires at 108 Sports Lounge 9 pm
9th Poorhouse Duo at Bauhaus 6 pm
12th Poorhouse Millionaires at The River's Edge in Knight's Ferry
13th Rob Hill Band at Barking Dog 6 pm
17th Poorhouse Millionaires and Friends at Ralston's Goat 8 pm
19th Jeramy Norris and the Dangerous Mood at Valley Brew in Stockton 8 pm
20th Poorhouse Millionaires, Cole Hinkle and Mattea Overstreet at The Waterwheel in Sonora 8 pm
20th Jeramy Norris and the Dangerous Mood at Hotel Ledger in Moke Hill 9 pm
20th Tony and the Tuff Times at Barking Dog 8 pm
23rd Poorhouse Duo at Bauhaus 6 pm
Comments
comments
About the Author: BigEarl