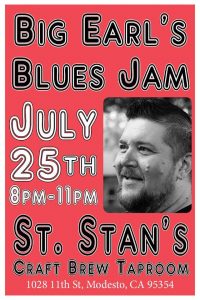 BluesView
By Earl Matthews
Hello everyone, I hope you are feeling fine and ready for a great July. It's been an amazing year so far and I for one am ready to keep this blues train rolling. Starting things off is a band originally formed by the legendary Mike Bloomfield, The Electric Flag will be at Moe's Alley on the 1st. This show will feature Nick Gravenites from Big Brother and the Holding Company and Tower Of Power. Or you could Check out harmonica superstar Curtis Salgado at the Powerhouse Pub in Folsom.
One of the hardest working bluesmen in or area Jeramy Norris and the Dangerous Mood is doing a weekend residency at the Iron Door Saloon up in Groveland on the 6th and 7th. Jeramy has one of the tightest trios in the whole valley and is a showman of the highest order. Great excuse for a weekend in the mountains or a fun stopover on your way to Yosemite.
One of my all-time favorite live bands is coming to the Powerhouse Pub on the 8th. Cafe R&B is fronted by a woman so full of fire and raw sex appeal that I can only compare her to none other than Tina Turner. If you have the chance to see them, take it.
On the 14th you have a wonderful opportunity to support Sol Riddem over at ChurchKey in Modesto for their CD Release party. I'm going and it would be awesome to see some friends. Another fav of mine is coming back to town, all the way from New Orleans. Todd Day Waits is playing at Ralston's Goat on the 15th. Todd Mixes Old School Blues, Country and Americana music with a shockingly authentic delivery. I will be there for sure.
On the 20th you can catch Modesto's own R&B crooner Rob Hill Band at Ralston's Goat. Rob calls his music Jazzy Blue but I call it heartfelt and full of soul.
I will be hosting my monthly Blues Jam at St. Stan's on Wednesday the 25th. You should consider checking out both of the Thursday Jams too. David Dow at Barking Dog and Jeramy Norris at Garlic Brothers in Stockton. Both are great and welcome all comers.
I am really excited to be heading back up to Moke Hill on the 29th with Big Earl and the Cryin' Shame for their summer concert series. Come hang out in the shade and by the pool for some cool blues.
To of the greatest Blues performers of all time are back on the road and heading to Mountain Winery in Saratoga on the 31st. The Grammy-winning duo Taj Mahal and Keb Mo' are keeping this partnership up for yet another tour. I have heard nothing but glowing reviews about their live shows together. So if you have an extra ticket, don't forget about your boy.
Have a great month and I hope to see you out at a show.
July 2018 Bluesview
1st Electric Flag at Moe's Alley in Santa Cruz
1st Curtis Salgado at Powerhouse Pub in Folsom
6th Jeramy Norris and the Dangerous Mood at the Iron Door in Groveland
7th Jeramy Norris and the Dangerous Mood at the Iron Door in Groveland
8th Cafe R&B at the Powerhouse Pub in Folsom
14th Sol Riddim CD Release Party at ChurchKey in Modesto
15th Todd Day Waits at Ralston's Goat
20th Rob Hill at Ralston's Goat
25th Big Earl's Blues Jam at St. Stan's Taproom in Modesto
29th Big Earl and the Cryin' Shame at the Hotel Ledger on Moke Hill
31st Taj Mahal and Keb Mo' at Mountain Winery in Saratoga
Comments
comments
About the Author: BigEarl