Interview: Bree Fitzpatrick: Modesto Marathon Flat and Fast
By Carly Russell
On March 26th, thousands of runners, joggers, and walkers will participate in the Modesto Marathon, a fast and flat road race course designed for everyone from elite runners with goals of qualifying for the Boston Marathon to first-timers looking to conquer their first road race.    
The Modesto Marathon raises money to support "Teens Run Modesto," a program for valley students that includes goal setting, adult mentoring, and a structured training program.  This year's Marathon theme is "Graffiti USA."   In a unique collaboration with the Graffiti USA Classic Car Museum, classic cars will line various areas of the race course, providing runners with colorful scenery as they compete.  Race medals, swag, and the Finish Line Festival will all feature nods to Modesto's classic car culture and love for the nostalgia of the 50s and 60s.  
This 5k, 10k, Half, and Full-Marathon event starts and ends in Downtown Modesto.  Course highlights include the tree-lined streets of the College area, Modesto's Historic 99 Highway (9th Street), MJC West, and the surrounding countryside.   
At the end of the race, the Finish Line Festival allows runners and spectators to dine, drink, and celebrate all they've accomplished. 
This year's Finish Line Festival includes various Food Truck options, including Paul's Rustic Oven, Flip N Fry, Hungry Soul, and Pina Coco Shaved Ice.  Blaker Brewing will be on tap as spectators and runners toast the day's victories.  
The Modesto Marathon has a new Race Director, Bree Fitzpatrick.  While Bree may be new to her role as Race Director, she's a long-time member of the Shadowchase running club, and the Modesto Marathon is familiar terrain.  Over the past six months, Bree has worked diligently to coordinate all the moving parts that come with planning an event of this scale.  Bree's passion and desire to ensure the Modesto Marathon continues is inspiring.  I've had the opportunity to listen to Bree talk to would-be racers as they contemplate whether they have what it takes to compete in a road race.  Her encouraging and supportive spirit is incredible and provides almost anyone with the confidence they need to believe "it can be done." 
Let's get to know Bree Fitzpatrick and provide would-be Marathon participants with the motivation to make it from spectator to runner: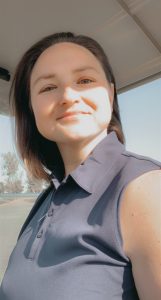 MV: Briefly introduce yourself, your professional role, and your history with Shadowchase Running Club? 
BF: My name is Bree Fitzpatrick; by day, I am a Medical Assistant at Sutter Gould Medical Foundation, and at night I am in school to get my BA in psychology.  When I first started, I had never heard of ShadowChase running club, that is, until my daughter joined Teens Run Modesto in 2013.  Then, in 2016 I was approached by Mike Mason, who asked me to run with the training group as a mentor.  That was the year it all started.  Shortly after training as a mentor, I became a certified coach; the rest is history.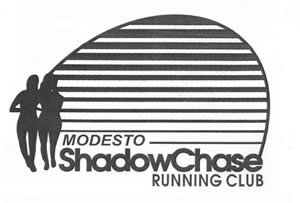 MV: What led you to take the reins as the Modesto Marathon Race Director?
BF: Since I started in 2013, I have been actively participating in activities put on by ShadowChase.  I have been in the 4th of July parade, helped with the Jingle Bell run, the memorial classic, and the riverbank run for cheese, and volunteered for the Modesto marathon, which made me love Shadowchase more.  So, when I heard that we might not have the Modesto Marathon because we didn't have a race director, I was sad to think we might lose the race.  But, after lengthy talks with several people, I thought if no one else would step up, why not me? 
MV: Do you have personal experience as a Marathon participant?  
BF: I ran the half marathon my first year and then did the full Marathon the following year.  It's a great course because it is flat and fast with only one hill.  We lovingly call the 9th street hill up to the Briggsmore overpass "Mt. Modesto."
MV: Who do you hope to attract to your event? 
BF: I want to attract families.  I want this to be an activity that people look forward to doing as a family.  So optimistically, it will grow into a passion, and they will come back year after year and challenge themselves to do longer distances.  Not everyone can be an elite athlete, but anyone can walk or run a marathon. 
MV: Do you have any advice for people who haven't registered yet or may be on the fence?  
BF: First, I would remind them that we have more distances than just the Marathon (26.2 miles).  We do have a half marathon (13.1 miles), a 10K (6.2 miles), and a 5K (3.1 miles).  We pride ourselves on having a distance for everyone.  Secondly, I hear this all the time when I talk about the marathon "oh, I'm not a runner," and to that, I say, you don't have to be a runner to walk.  Lastly, bet on yourself and see what you can do; if you already know you can walk/run the 3-mile, challenge yourself to do the 10K.  Running or walking will always be challenging, but this is definitely one race you don't want to miss.
MV:  How will this year's Marathon differ from past years?
BF: This year, we are adding new ideas, including our Graffiti Classic Cars theme.  We also plan to have classic cars to look at as you run and a "diner feel" at the finish line.  Blaker Brewery is also debuting their recovery beer at our race, not to mention we will have a variety of food trucks to choose from following your race.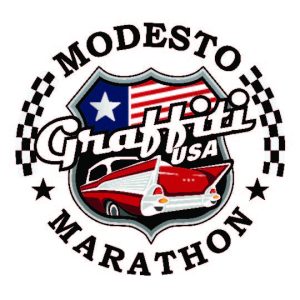 MV: The Modesto Marathon is only a few weeks away!  What are you most excited about?
BF: I look forward to watching it all come together and seeing the tears of joy on the participants' faces when they cross the finish line.  Of course, putting on a marathon is a considerable undertaking; it takes a village to succeed.  But, then, when the dust settles, Modesto Marathon has the honor of giving back by donating its proceeds to Teens Run Modesto.
MV: The Marathon has partnered with Graffiti USA Classic Car Museum, utilizing their logo on this year's medal.  What inspired you to incorporate the Graffiti Classic Car theme into your event?  And what can runners expect from this partnership?
BF: The idea of partnering with the Graffiti USA Classic Car Museum came about while I was on a run with the training team.  It was a perfect idea, and ideal timing, as the Grafitti USA Classic Car museum had just opened.  It incorporates the history of Modesto and showcases an era for people who may not know the history of their town.  This way, they can see the cars, hear the music, and feel like they are part of Modesto's rich and diverse history.
MV: How can people in our community get involved or help support this event?
BF: We would love to have the community involved.  There are plenty of sponsorship opportunities and volunteer opportunities throughout the course.  Or, if they live along the route, they can cheer the runners on from their front porches!  Alternatively, if you have a classic car and want to showcase it, we would love to have you join the line-up.
MV: Planning an event of this magnitude must be challenging!  Who are you thankful for (sponsors, volunteers, etc.)?
BF: First, I will thank ShadowChase running club for believing in me to take on this race!  Next, I will thank my family, who have helped tremendously.  Then on to our sponsors, we appreciate any donation we get, whether that be monetary or physical; we could not do it without you.  Finally, I will thank Memorial Medical Center for its generous donation and continued support.
MV: Final Thoughts?
BF: Be your biggest advocate, bet on yourself, and we will see you at the starting line!
MV: Last but not least, Rolling Stones or Beatles?
BF: While I enjoy both bands, the Beatles have more songs I like.  Starting with "Hey Jude", "Let It Be" and "Here Comes the Sun", but my favorite is "Yellow Submarine".
Interested in participating in the Modesto Marathon?
Registration: https://modestomarathon.com/race/
Price Increase: March 1, 2023  
Online registration closes:  Friday, March 24th
In-person registration closes Saturday, March 25th.     
Classic Cars Needed: Sunday, March 26th, from 6 AM-2 PM
Classic Car Owner/Club Registration: http://bit.ly/3Kc0ZuG