Robert's Ferry Gourmet: Where Families Meet Over Shakes and Mimosas!
by Christopher and Brandilyn Mitchell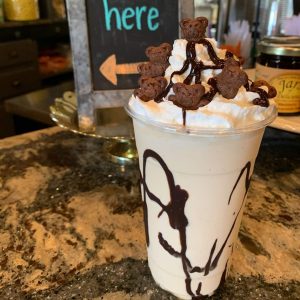 You've probably seen Robert's Ferry Gourmet's popcorn all over store shelves in Modesto, but did you know Robert's Ferry Gourmet is an actual store (two stores actually, one in Oakdale and the other Waterford) and they are SO much more than popcorn? I had been stalking their Facebook page for a while drooling over their frosés and mimosas. They serve local beers too-usually featuring some favs like Last Call, Dying Breed and Grains of Virtue.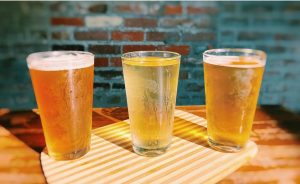 But we finally took the plunge when they advertised a wine-tasting night featuring Michael David Wines for only $10. $10! What a steal! For a mom on a budget that price tag was a win, and Michael David?! Of the delicious "Freak Show" zin?! My excitement was hard to contain. I had high expectations for this night, being so familiar with Michael David Wines already. Roberts Ferry absolutely delivered! Wine on The Patio was a night filled with fun and deliciousness! You would never have known it was a winter night-the fire was going, the heaters were on, the chill was kept at bay. No one was wearing jackets as they held their wine glasses. You would've thought it was May with the gorgeous weather.  We were also served a charming charcuterie cup from Tidbits and some goodies from their snack and popcorn lines. Keep your wrist bands on when you attend a wine night folks, you get a 10% discount on everything you buy, too!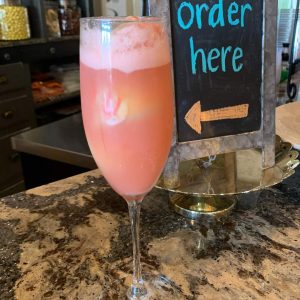 The Patio is a little hide-away in the back of the store, wistful, reminiscent of a small Parisian alleyway. And not just due to the adorable paintings on the walls, but because you feel like you are transported to another time, a simpler time. Before cell phones and tablets. There is no road noise–you can sit, completely uninterrupted, and really connect with the people you brought with you. Unless you're #BrewView, we connected with each other and everyone else because meeting new people and getting to know them is part of fantastic our human journey. And some of the people we got to know that night were none other than Kim and Nic West, owners of the Roberts Ferry Gourmet stores.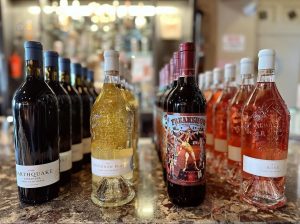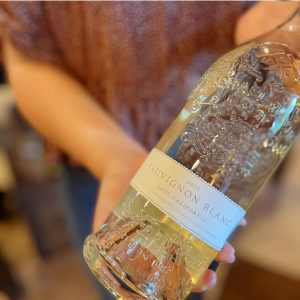 Robert's Ferry Nut Company was founded in 1983 by Bill and Phyllis Mallory. Kim worked for the Mallorys for several years. In 2015, the opportunity to buy RFNC presented itself, and Kim and her husband Nic, alongside Kim's sister, Stacey, bought it. In 2021, they renamed the business Roberts Ferry Gourmet, as they had expanded into way more than a nut company. Their caramel corn might be their flagship popcorn, but they have over 30 varieties (some seasonal) to choose from. For generations, Kim's family has been in Roberts Ferry and for generations Nic's family has been in Oakdale. Having a store in each place is giving back to their communities and investing in local families-through purchasing ag products, supplying jobs, and creating a space for families and friends to meet and enjoy each other's company.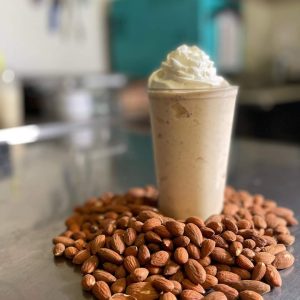 "Oakdale was missing a place for the family. We wanted somewhere kids could get a shake after school, but where moms could come get a glass of wine during the day, too. We needed a place the whole family could be together, building a community connection." Kim said. We couldn't agree more. With events like their "Kids Make & Take" with Soaps by Hailey, coming up on March 19th, they make it easy to do! Kids will make 2 items – a soap and a lip balm. (Kids must be 6+ and parents must stay on site-but you won't be bored because you'll have a glass of wine to keep you company *wink wink*.) When the fun is done, each kid will receive a scoop of ice cream with toppings of their choice.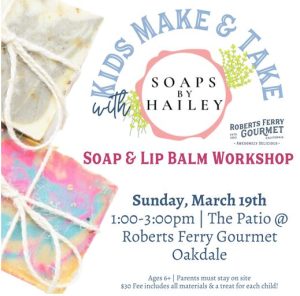 On March 30th, they will be hosting a "Felt & Feather Hat Bar". Come get STYLED in time for the La Grange + Oakdale Rodeos on The Patio at Roberts Ferry Gourmet Oakdale! Your $50 ticket will get you a $30 Credit with Felt + Feather, two drink tickets, snacks and 10% off any Roberts Ferry Gourmet purchases during the time of the event! Hats, accessories and branding options will all be available!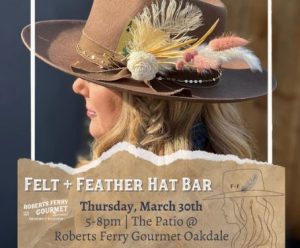 On April 20th, there will be another Wine Tasting on the Patio, of Gnarly Head's 1924 line. If April seems too far away, be sure to visit their Waterford location which is on the Almond Blossom Cruise Route. Their fields will be open for self-guided tours. You won't want to miss seeing the covered bridge surrounded by almond blossoms. Fun fact, Kim's grandmother Mabel cut the ribbon on the covered bridge after it was built. It still stands, fully driveable, ready for your photos.
Don't drink alcohol? Roberts Ferry has you covered with the most delicious shakes and root beer floats in the valley. Any flavor you can think of! Their milkshakes are famous-seriously you should have one. Or two. They have an amazing espresso bar proudly serving Clayton's Coffee. Can't decide between a shake or a coffee: try an affogato-espresso poured over ice cream to get the best of both worlds. Or purchase a jar of "Yes Cocktail Co.!" no-alcohol mix to take home. Just add soda instead of vodka, and some ice and BAM you have a mocktail! The Lavender Honey is *chef's kiss*. Order a take and bake lasagna or mac 'n cheese for your next date night, and #tasteofoakdale from the comfort of your own home.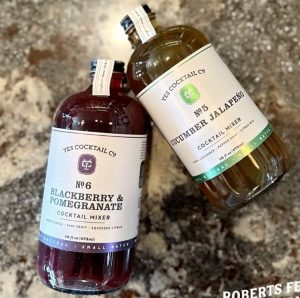 We hope to catch you sipping a mimosa or milkshake soon. To purchase tickets to any events mentioned above, visit their website below.
DON'T FORGET TO VISIT THEM every Saturday morning from 8-11am May-September on 3rd Avenue for OAKDALE MORNING FARMERS MARKET!
Robert's Ferry Gourmet is a stop in the market and lucky for you–serves Morning Market specials for only $5! Choose from beers on tap, a beer shandy, a frose (rose wine slushie), a beermosa, or a standard mimosa (orange or cranberry)! All of their drinks are available at their regular price during Morning Market however, including their delicious signature mimosas (rainbow sherbet, seasonal splash, or lavender and lemon infused). The rainbow sherbert is *chef's kiss*. Treat yourself to a Market Special and get your kiddos a milkshake, too! Enjoy your treats on their covered patio to feel swept away to Paris for the morning! For more info visit www.oakdalemorningmarket.com.
Tag your photos #modestoview and sip on, friends!

Roberts Ferry Gourmet
20493 Yosemite Blvd., Waterford 209-874-3247
150 N. 3rd Ave., Oakdale 209-840-0527
www.robertsferrygourmet.com
Instagram @robertsferrygourmetoakdale
Bring on the rain, and a bottle of Wonky & Wry's Honey Braggot Ale. Loves to roast marshmallows over a fire.